Hello people! How your week going? Hope you're all well! I'm writing this update as my bunny bruce is running around crazily, literally bouncing off the walls, me, the laptop...everything!
I bring to you another craft share, this theme is recycling. I had looked around and seen some wonderful stuff out there, you guys are rocking it when it comes to recycling craft stuff! The imagination and complete dedication you people go to , to source your materials is amazing! These are just some of the things out there that caught my eye and my heart!
http://www.etsy.com/shop/GardenApothecary?ref=seller_info&atr_uid=0
I don't know what it is that drawn my eyes to these but I love the packaging, there is somethng refreshingly old fashioned about it, reminding me of victorian products, what with the simple packaging colours and font styles. It just invoke treating your face to a mask on a cool winters day and having a pampering session, snuggled up in your warmest clothes by the fire with bad tv shows on! (yeah, I am so rock n roll baby....!) I very much like how they taken the trouble to even tell you a bit of their product's packaging, clearly they are proud of it and quite rightly so!
The packaging is truly green! An adorable eco-tube made from 100% PCW recycled paper with sunflower based ink and organic adhesive and glaze. This little eco-tube is home compostable and recycles with household paper.
Nice one! I would really like to one day have this product in my hands and give it a go and squeeze it all out...only after admiring its simple beauty before hand! And I didn;t know there was such a thing as sunflower based ink!...Heh, you learn somehting new everyday no?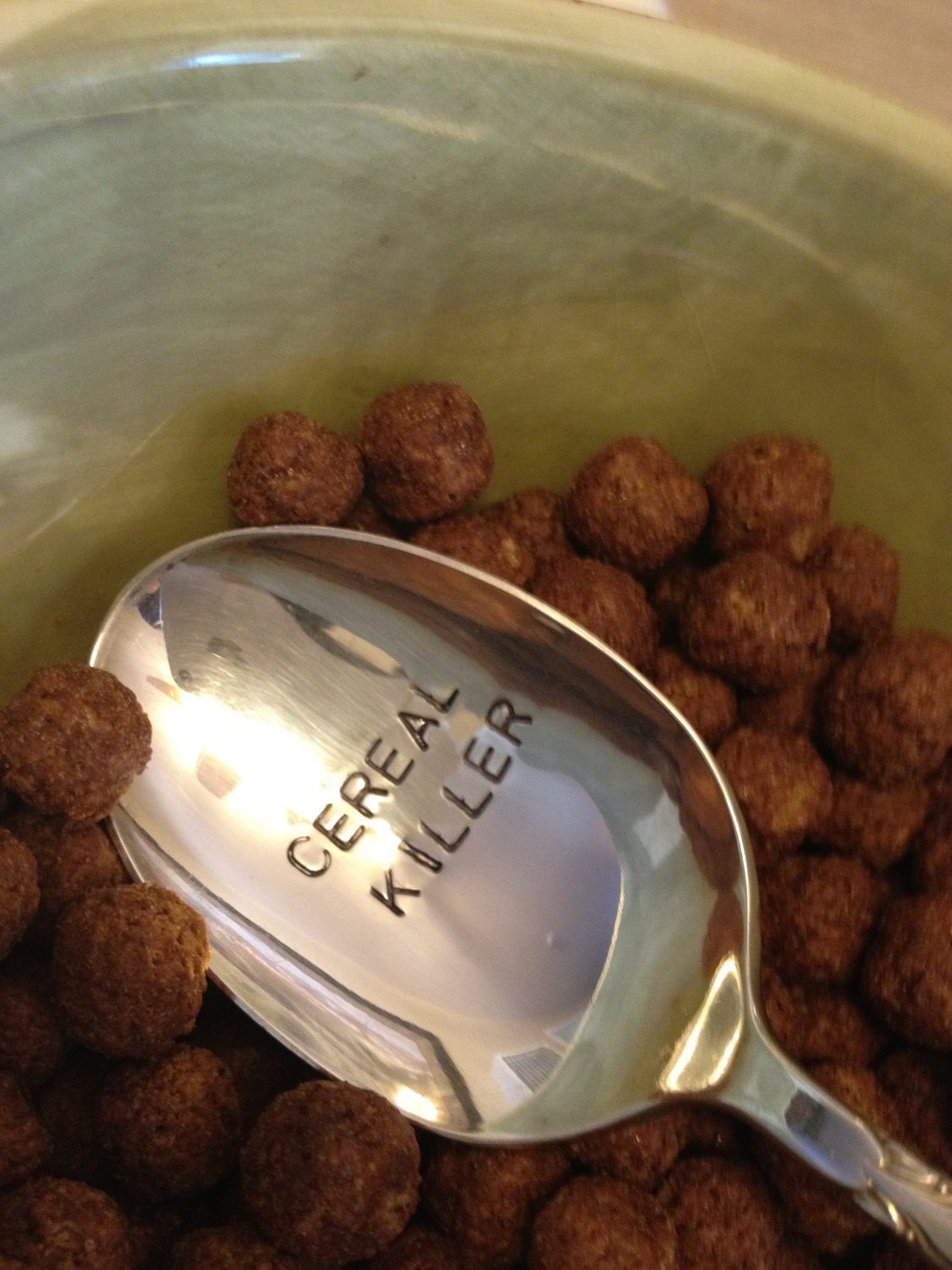 http://www.etsy.com/shop/BellaJacksonStudios?ref=seller_info&atr_uid=0
Hehe! I smirked big time when I saw this and going to ear-mark it as a possible gift for my brother for christmas (fingers crossed redundancy goes away!) wonderful tongue in cheek humour and play on words...I like it very much! My brother and I share that weird sense of humour that this spoon captures perfectly! I like how this spoon gone from a humble bog-standard spoon to something that is just way cool and desirable! I can see people fighting over this in the cutlery drawer!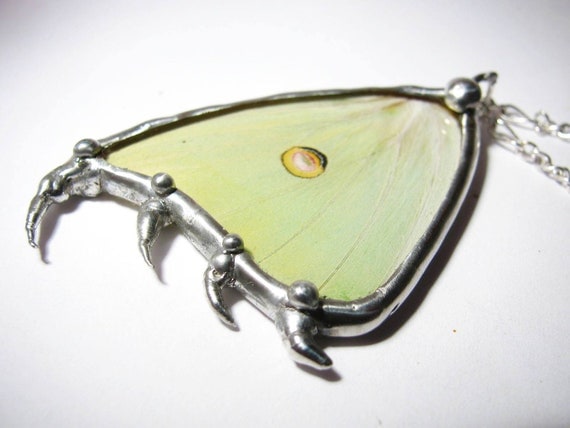 http://www.etsy.com/shop/lonesomehobo?ref=seller_info&atr_uid=0#
Taxidermy but with a beautiful difference, I very much like how the wings are preserved in the glass and edged in silver, it got a wonderful victorian/biological feel, like those specimens you see in jars and in glass cases, carefully labelled no? Take a look through the shop and see the various colours and patterns all these lovely wings have. Its reassuring to know from what they verified that no butterflies were harmed in the making of these, all have died naturally and forever preserved beautifully.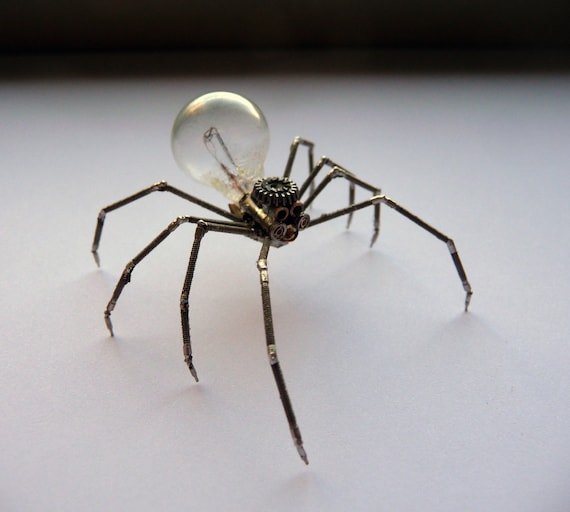 http://www.etsy.com/shop/amechanicalmind?ref=seller_info&atr_uid=0
Wooooooooow! how cute is this little spider?! Look at how dainty and thin the legs are! And the light bulb abdomen! Its so pretty but I be so scared to hold this! So fragile! steampunk spider! love it! Look at the amount of work that gone into this baby! *stares hard for ages in silence*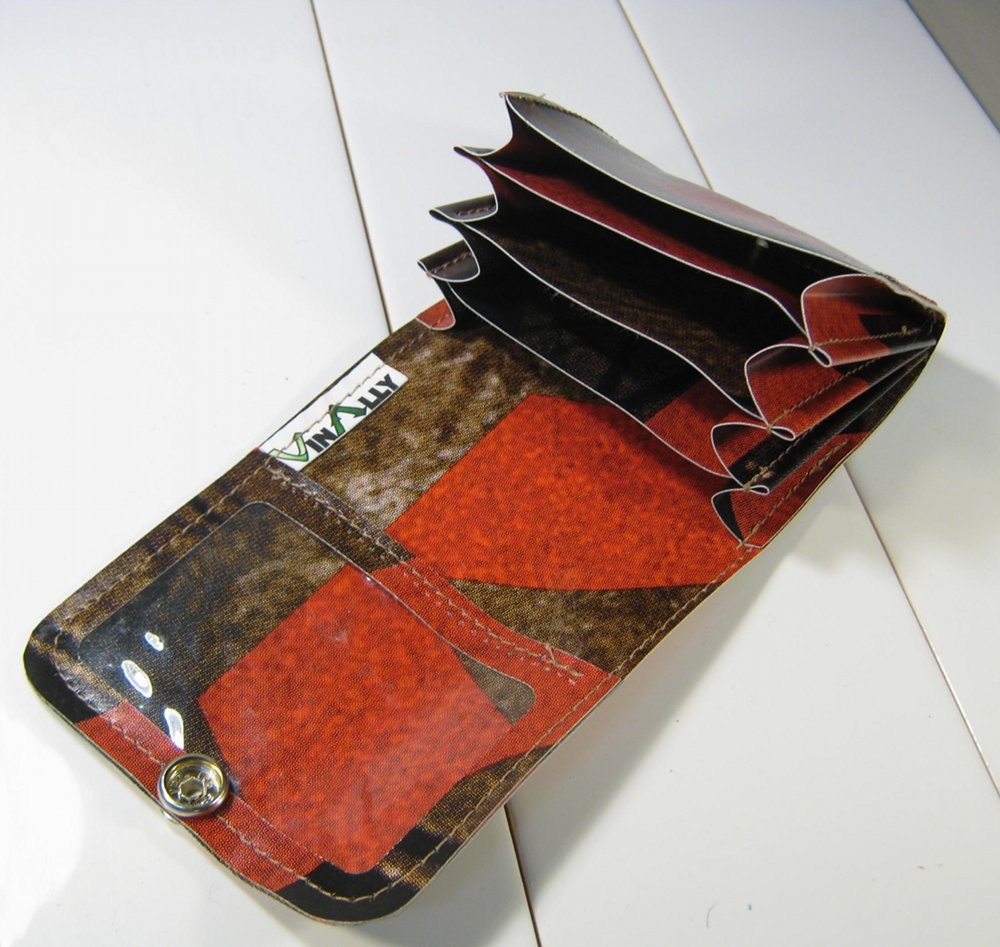 http://www.etsy.com/shop/VinAlly?ref=seller_info&atr_uid=0
There were many wallets out there, made from recycled materials but this one caught my eye. At first I thought it was made from leather scraps but then looking closer and reading the product description....well hell...I'll let you read it yourself!...
Accordion-style credit card organizer wallet in brown, dark brown and red from recycled billboards.
neat eh? What a great material to use! I wonder how easy it is to sew with?
And the product description went on to say more, in what I feel made a perfectly valid point and great explanation! -
I designed this for myself and for other women who seem to have all the slots in their wallets used up. Single slot card organizers, will there EVER be a wallet that has enough card slots? No! I am firmly convinced that the solution is to put the cards into groups instead.
Very true my lady, very true indeed and an excellent point to make! Rock on! I'm liking your style!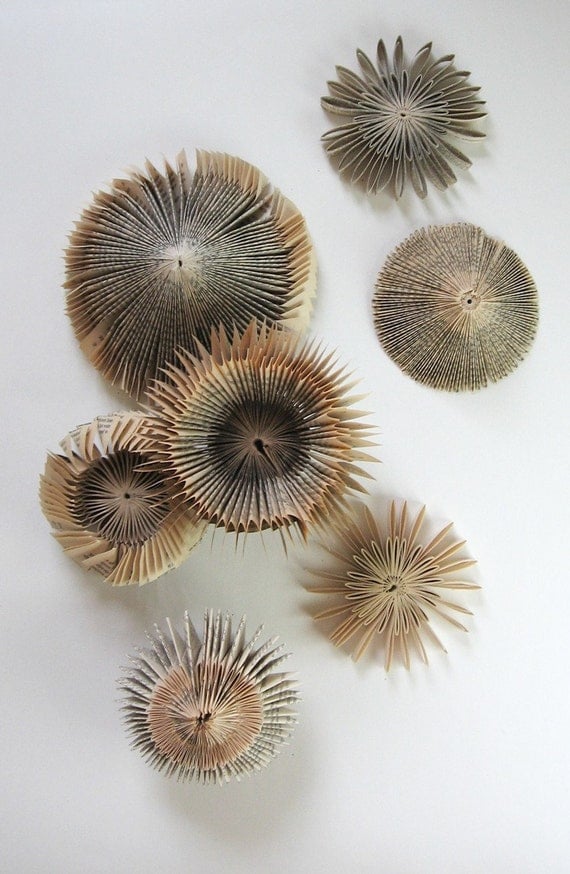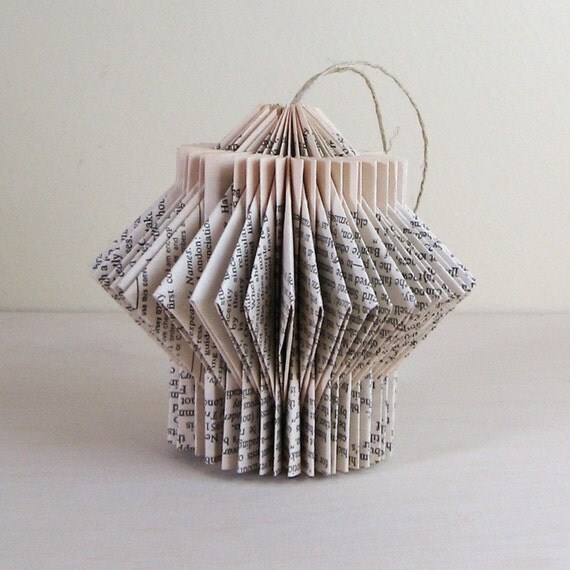 http://www.etsy.com/shop/bookBW?ref=seller_info&atr_uid=0
How pretty are these? I just think these are beautifully made and I never viewed papercraft in this way before. I like how the visual impact really looks great with a group of them at different levels as well to give it depth and an almost 3-D look to it. Beautiful!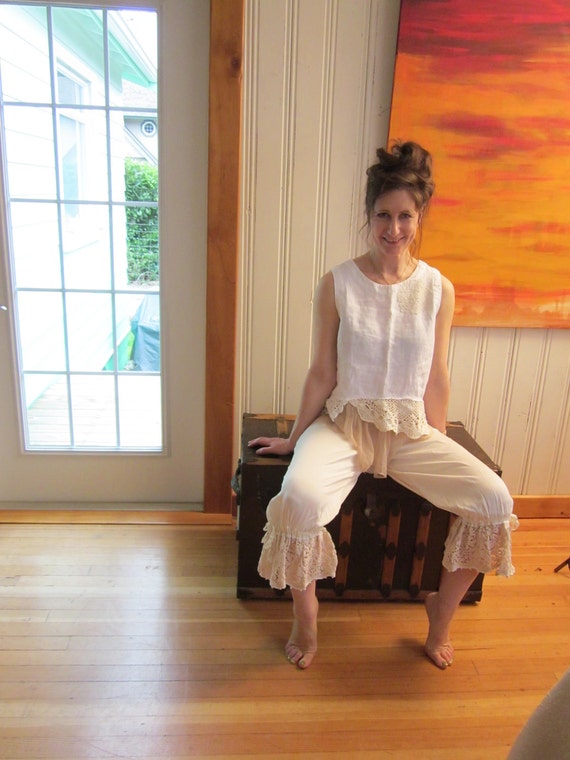 http://www.etsy.com/shop/kuschis?ref=seller_info&atr_uid=0
Bloomers! Every woman need bloomers I swear! I really like the colour and the overall chintzy feel to it with the fantastic lace edging. Got that wonderful victorian/georgian feel to it...heck, even a steampunk style too! It really is worth paying attention and reading the product description as often the craftsters let you into their workshop and their worl for a moment and you understand more of the product and the time and effort that gone into it, like this for example...
These are made from recycled silk fabric that used to be curtains. I embellished it with cotton lace that was dyed with tea.
Curtains? I would never have been able to tell! And dyed with tea?! How sweetly amazing is that? It given the overall fabric a wonderful vintage feel and glow! Soft muted colours always seem to do well with the ladies of late and it isn't hard to see why! Lovely!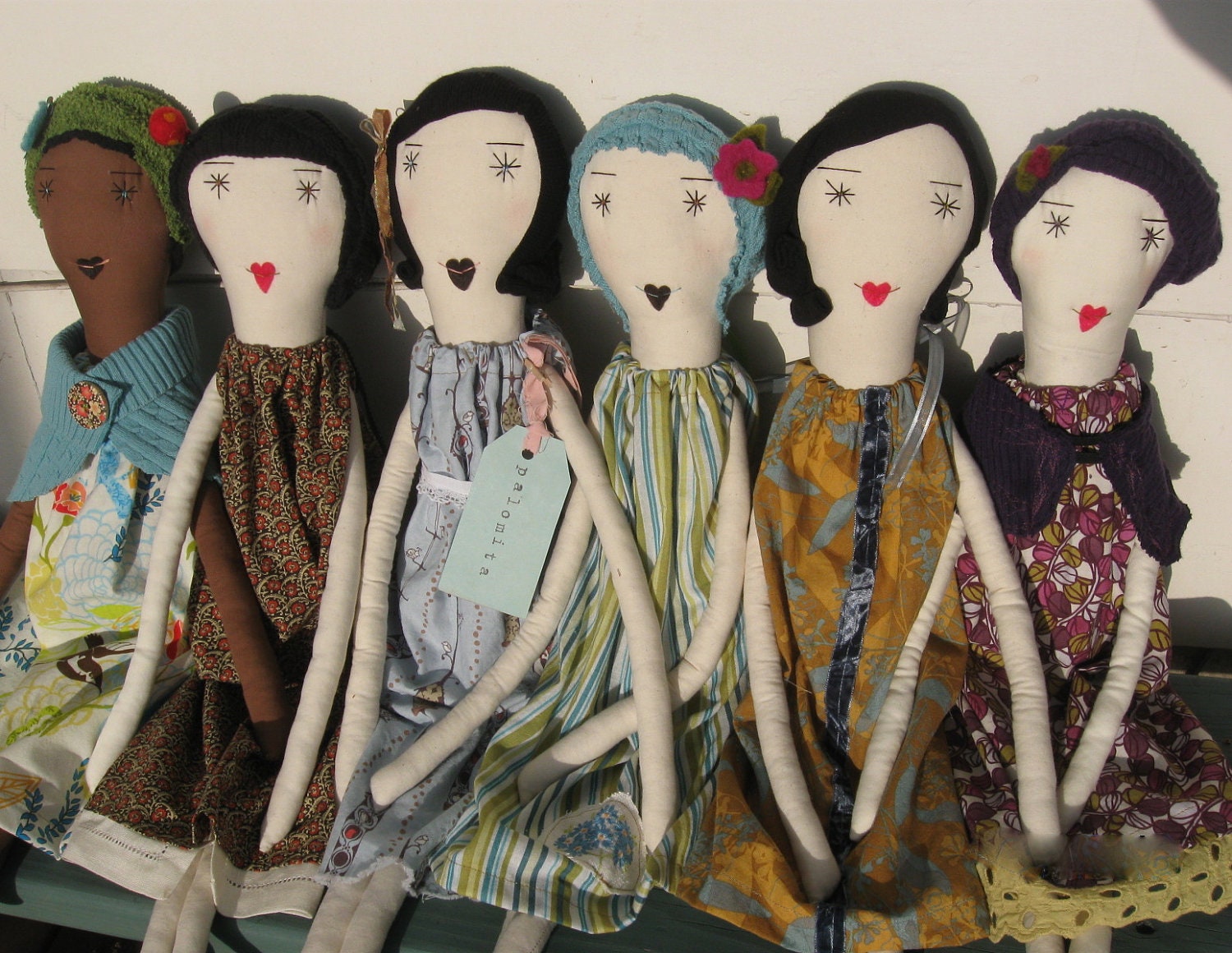 http://www.etsy.com/shop/palomitaragdolls?ref=seller_info&atr_uid=0
A wonderful one-off doll which comes with a beautiful one-of-a-kind description...
A one-of-a-kind, handmade cloth doll to adore and cherish... sure to become a trusted friend and companion. A rag doll only becomes more precious over time, as years of sharing secrets and having fantastic adventures softens her seams.
I know that if I was the lucky owner of one of these beautiful dolls, I'd treasure it always!
http://www.etsy.com/shop/allweneedisorigami?ref=seller_info&atr_uid=0
I admire the simple colours used here, the twine and the little paper stars all look so sweet and fragile and almost magical! There's something that just takes your breath away a little isn't there, that makes you "ooh" and "aaah" over these! And all that work that gone into making those little papery stars!....and I really wanna know how to make one little star...but I got stupid fingers...*wails!*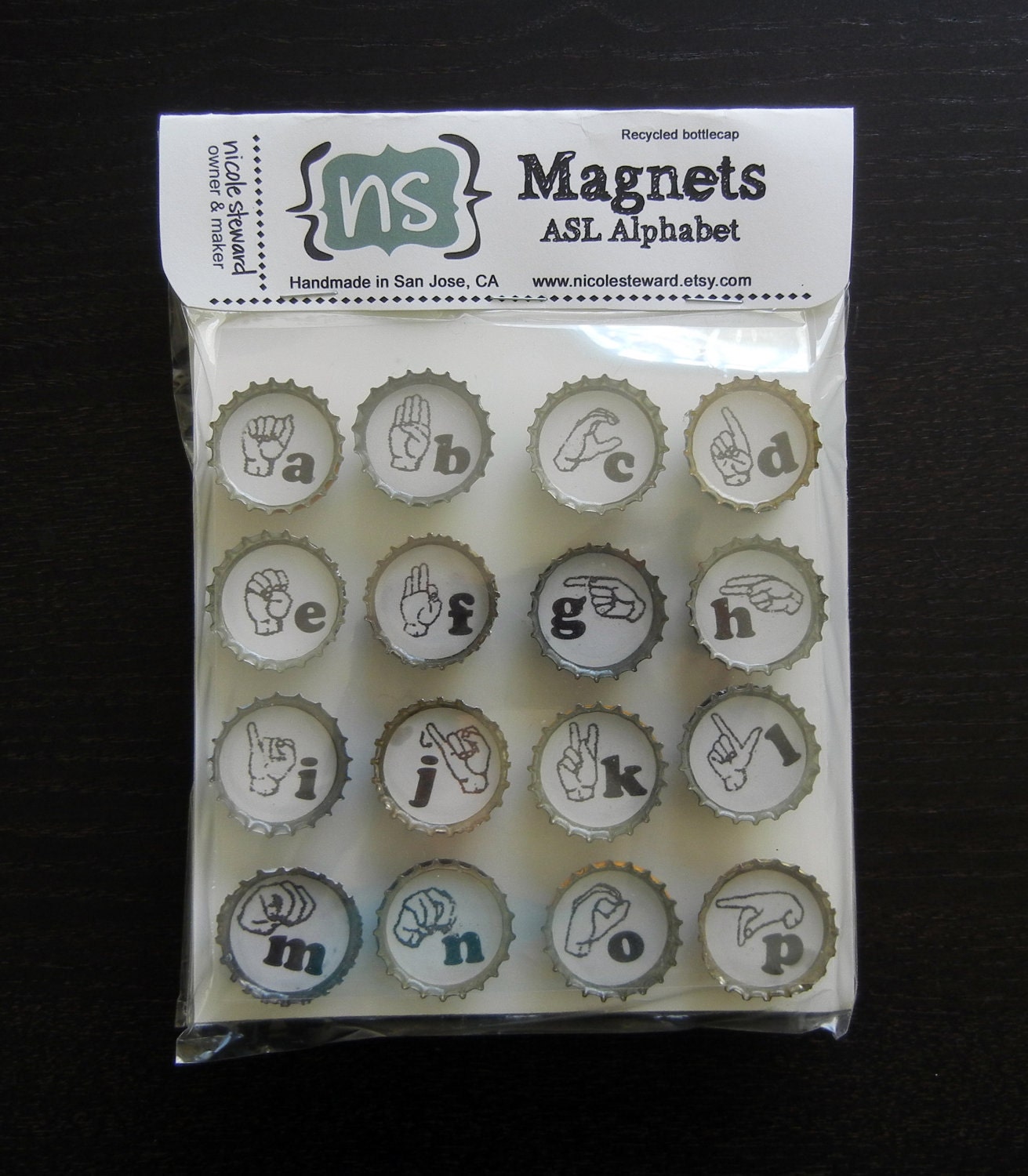 http://www.etsy.com/shop/nicolesteward?ref=seller_info&atr_uid=0
In case you didn't know (and of course you already would!) I'm deaf and one of the main ways I communicate is via sign language, BSL (british Sign Language). I also know ASL and so to see these just made my day! And they look cool as well! I would love these on my fridge anyday, and they make a great way for those who want to learn sign language, to actually learn it one letter at the time, each time you go to get the milk out! (I also like the packaging label tab too!)
I can confirm you are actually signing the right letters and not something rude! :P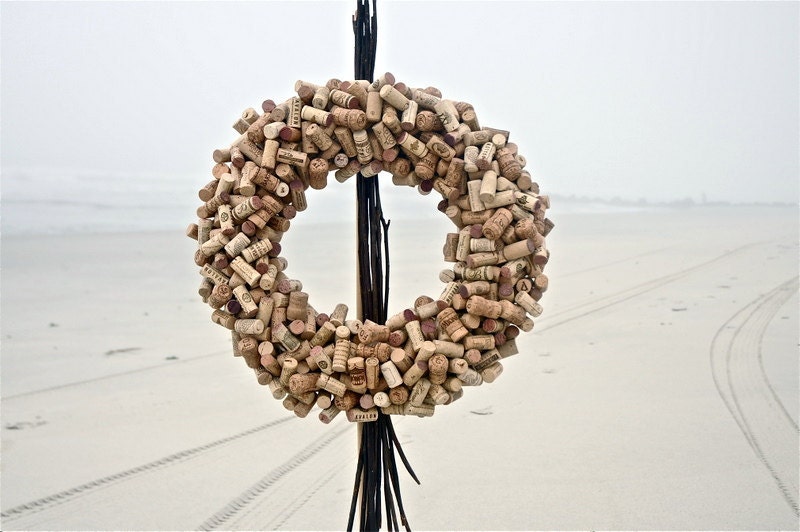 http://www.etsy.com/shop/SunOfABeach?ref=seller_info&atr_uid=0
First thing first...how much wine would you need to drink to make this?
Well apparently it takes 450-500 pieces of cork to make one of these wreaths so you best get drinking then!
How pretty is this? I like how the craftster taken the humble and what is deemed at times useless cork and turned it into something stunningly beautiful.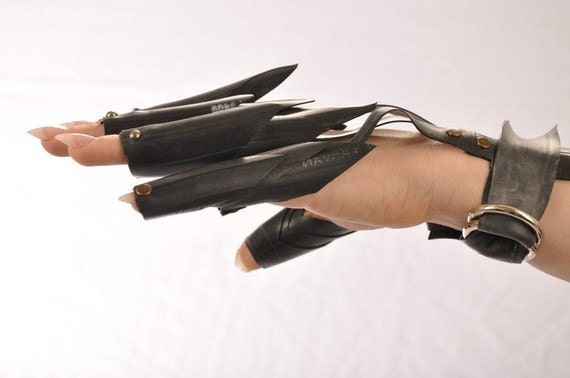 http://www.etsy.com/shop/NymphsAntiquity?ref=seller_info&atr_uid=0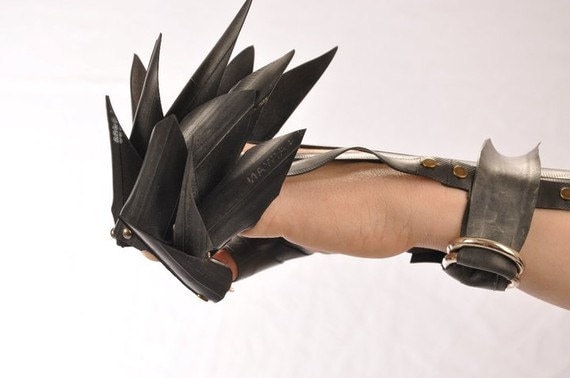 I saw this and immediately thought of the ring riders/wraths you see in Lord of the Rings with their terrible, spiky gauntlets! And I immediately just wanted to throw a black sheet on me and wear these rubber tubing gauntlets and channel my inner wrath out to scare all those near to me!
I totally respect and admire the lengths this craftster goes to, to source his materials...
I work the best I can to find inner tubes that will be close to actual ring size, however I depend on harvesting used inner tubes and I do not buy new ones. These are landfill rescues from Tulsa Bicycles - Be eco friendly!
I just
think "Nice one! You created something amazing and scary from something as mundane as bike tubing and saved the planet a little as well to boot!"
All these featured craftsters get my respect 100%, I admire their dedication to their recycling ethics and ability to transform something out of nothing. Their passion for their products and their materials just is brilliant and inspiring and I wish them all well in their ventures and staying true to their ethos and drive!
This posting has taught me that it pays to read the product description more, some of the stories people have on who they made their wares is beautiful in itself and you can almost feel the story, the energies and the heart in the finished product itself!
Guys, keep on rocking! You make the planet go round! :)
What products do you admire and why?