Today's craft share is based on bees. "Why?" I hear you ask? Well, my recent trip to The Eden Project highlighted just how much we need them in our lives and on our planet. There's is a world-wide decline in the number of bees and although reading it at first you'll be forgiven for thinking "Well, so what?" the more you think about it, the worrying this is.
We need bees. Simple as that.
Without them, we would have no food as they are the main reason why plants pollenate and turn into fruits and vegables and grow evermore via spreading seeds.
Without bees, it would even impact meat production.
It has been said that if bees was to disappear, man would have four years to live. Whether or not this is true we just have to hope we never come to find out. eek!
http://www.etsy.com/people/shopelizabethperry?ref=ls_profile
What a lovely shade of gold! It really does stand out and look so bright yet delicate no? I have dark brown hair (at the moment!) and I can see myself wearing these, so dramatic against such a dark background. Little golden bumbles peeking out to see! I got a little crush on these!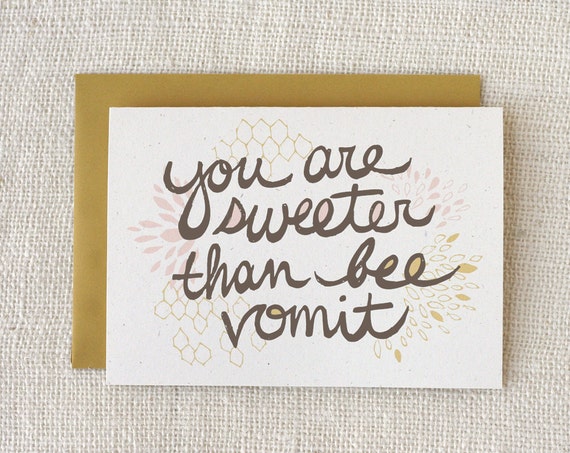 http://www.etsy.com/shop/witandwhistle?ref=seller_info
OK, there are so many cliche cards out there..."bee mine..."...."You're sweeter than honey"...."you're the bee's knees!".....and so on...you get the idea!
This one is in-your-face-startling-cute-yet-different!
Perfect for the liks of me who want to express my love but not in the total cringe-fest of ways!
....wonder what bee vomit would taste like anyway?....
...........can bees actually vomit?.......
....the mind boggles....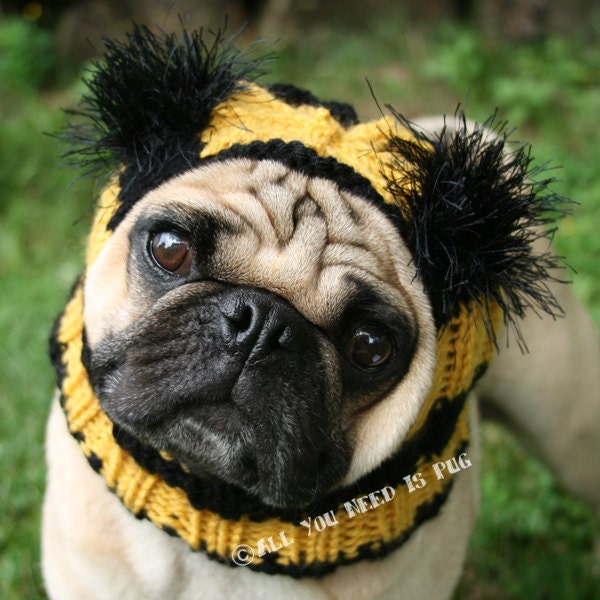 http://www.etsy.com/shop/jessicalynneart?ref=seller_info
Every pug lover just cant wait to turn their little ball of pug love into a bumble bee no?! Though I have no pug (but I will soon in september!), when it's cold and dreary outside, my pug would be wearing this...oh yes! These can be made for other breeds of dogs too! But there's something about a pug dressed as a bee that gets you right there...*chokes up!*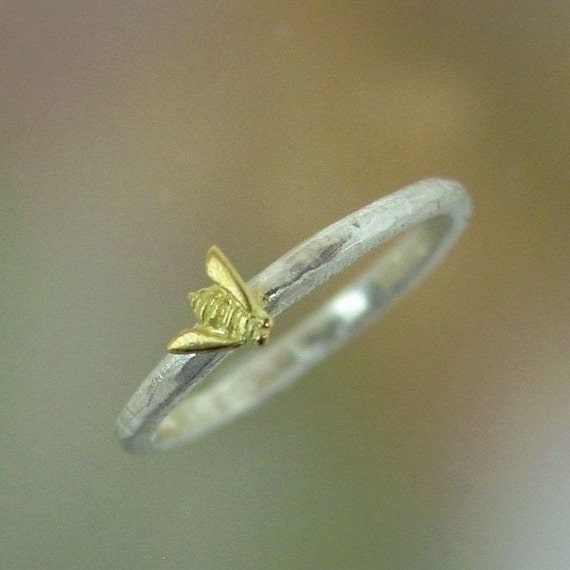 http://www.etsy.com/shop/PatrickIrlaJewelry?ref=seller_info
Wow! I am in awe of this little ring! look at how small, fragile and dainty it is! And did i mention fragile?!
I love this little ring a lot! These are apparently stack 'em rings and they would look amazing grouped together but I would just wear this little guy on his own to admire all day long. That gold there is so warm and bright! I actually keep coming back to this image as I like it that much! Wow! The shop is worth checking out as there are some beautiful and I mean beautiful piece in here!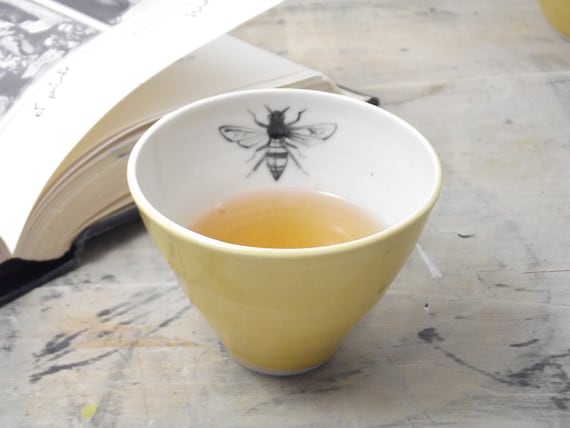 http://www.etsy.com/shop/FaithAdamsCeramics?ref=seller_info
Bees and yellow just go hand in hand together no? And I love the soft yellow on the outside of this cup with the heavy featured bee inside. I can see myself drinking warm herbal tea, sweetened with a little bit of (what else?!) honey, on a cold, grey day. This shade of yellow makes me warm and happy!
"Each tea cup is wheel-thrown and made of mid-fire porcelain. The exterior is glazed with a buttery, slightly transparent yellow and the interior of the cup features a bee, painted in black underglaze with clear glaze. Each bee is painted by hand using a graphite transfer process.

There is so much wonderful symbolism and myth connected to bees. They are associated with immortality, resurrection and fertility. The facts about bees are even more fascinating than the myths: the Queen bee is the sole mother of all the bees in the hive; all worker bees are female, and male bees, called drones, are only birthed when the Queen needs them to fertilize her eggs; the Queen is often the only member of the hive to survive the Winter, and she rebuilds the hive in the Spring."
As nicely pointed out by faithadams ceramics, I completely forgotten about the mythology and stories behind bees. It seems they were admired and respected as long as there's been humans! I admire how such a dainty little cup has been wheel-thrown by hand from a heavy ball of lifeless clay - such a patient skill! Nice one! I could snuggle up to this cup! :)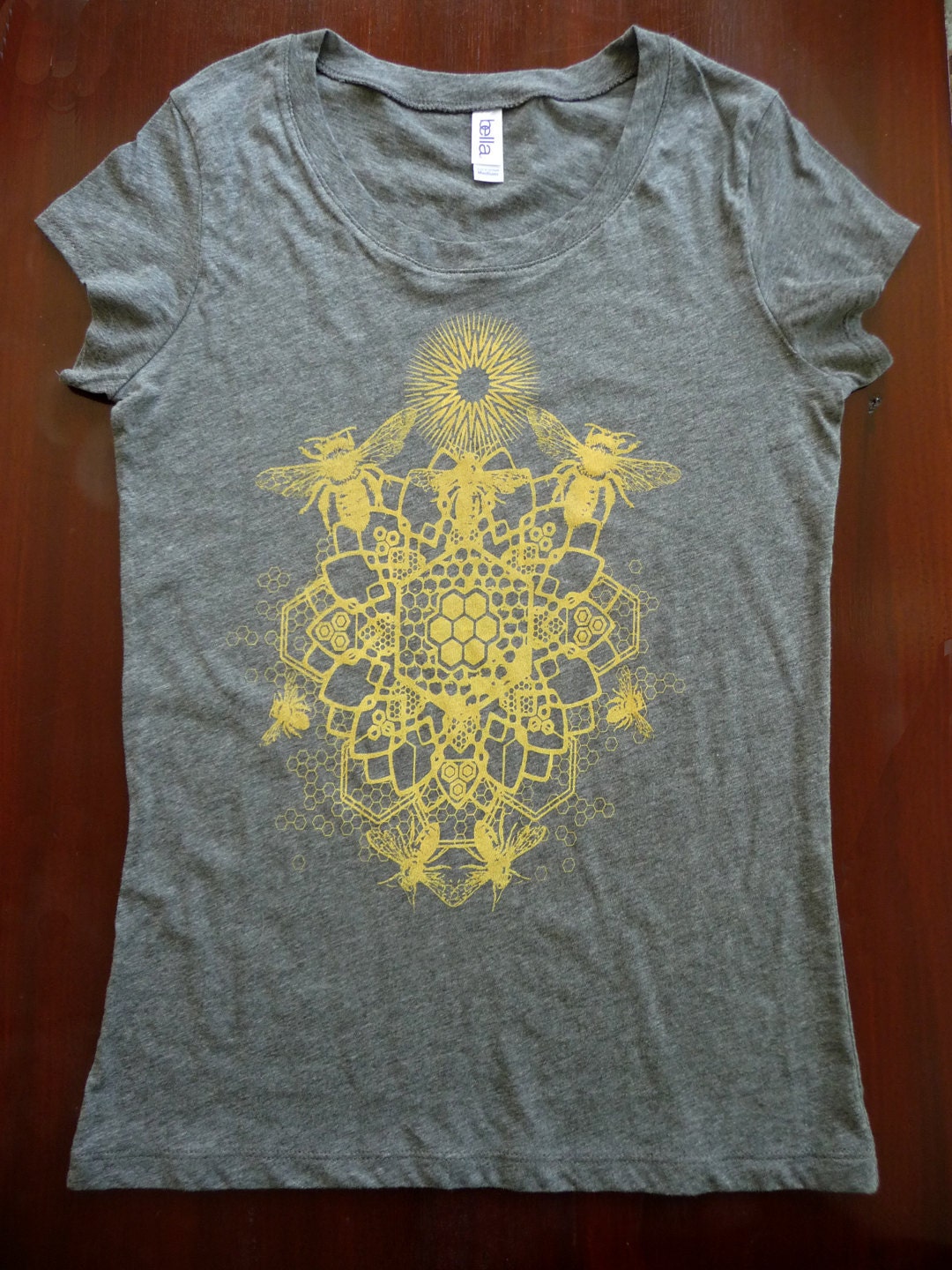 http://www.etsy.com/shop/astrolaboratory?ref=seller_info
I like this t-shirt, again the yellow really pops against the grey and to be honest, a lot of bees do in reality don't they? A bright ball of colour against the grey skies and green grass!
But what more, Adam Stare who created this lovely t-shirt has this to say -
"
This Bee Mandala was made to bring awareness to the devastation of Colony Collapse Disorder and to lend support to the North American Pollinator Protection Campaign.
The Bees offer their hard work to us and I wish to do my part to help Protect them."
Adam, nice work! I think it's great to see craftsters like yourself making goodies and raising awareness as well and money for a great cause! I wish you well in your success dude!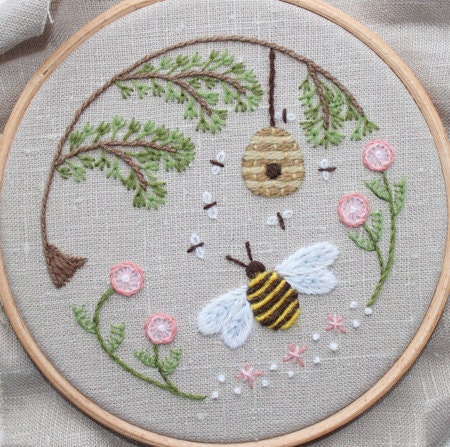 http://www.etsy.com/shop/Theflossbox?ref=seller_info
Awww! Look at that fuzzy-wuzzy bee! Don't you want to just reach out and stroke this embroidery?
And what is great is, this is actually a sewing kit you can purchase! This could be lovingly made by yourselves! Craft that is promoting others to make a piece of craft? Love it!
Lovely colour way used and a great variety of textures!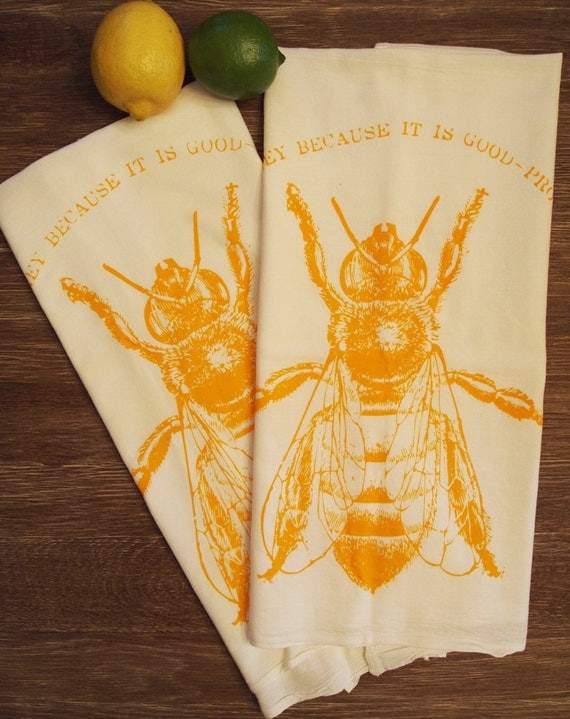 http://www.etsy.com/shop/ZenThreads?ref=seller_info
Ah! I can't get enough of this yellow! Mustard yellow I'd call it! And I'm liking these towels! I'd be doing the dishes and drying up just to have the excuse to use and admire these all day long! (well....maybe not all day long....the dishes that is!) Screen printing is something I know very well and these images are so clear and bright - nice work! I'm liking it!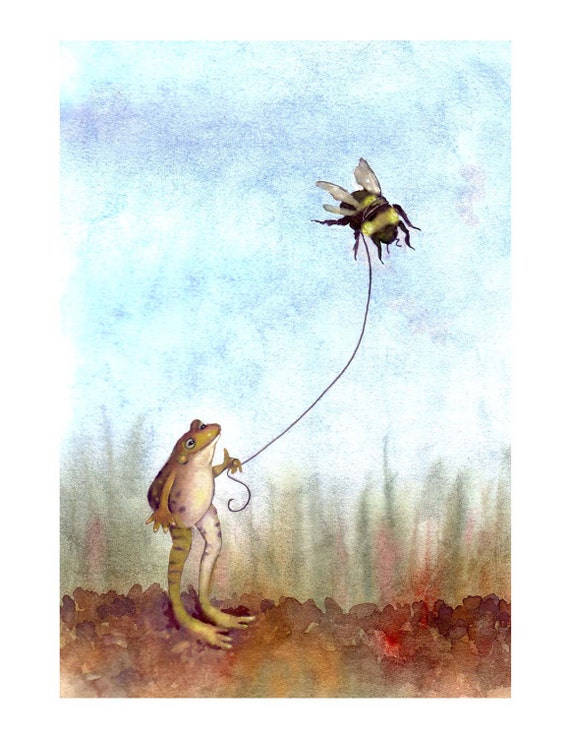 http://www.etsy.com/shop/tylersworkshop?ref=seller_info
"
A frog contentedly whiles away the afternoon with his flying 'pet' bumblebee in this humorous frog and bee print/ watercolor illustration. A whimsical work of art to grace your home, or give as gift."
Awwwwwwww! I will admit now that my favourite animal is frogs! And look at this little guys face! He looks so relaxed and happy to be taking his pet bumble out for a fly!
And why not? frogs can have a pet bumble bee! ( in my world that is!)
I'm loving the whole look and total contrast to seeing a frog doing something we humans do, as mundane as walking the dog has been turned into something so cute and awesome! It's a nice feel-good piece and I bet you're smiling and having a little fuzzy-wuzzy good vibe feeling going on right now looking at this!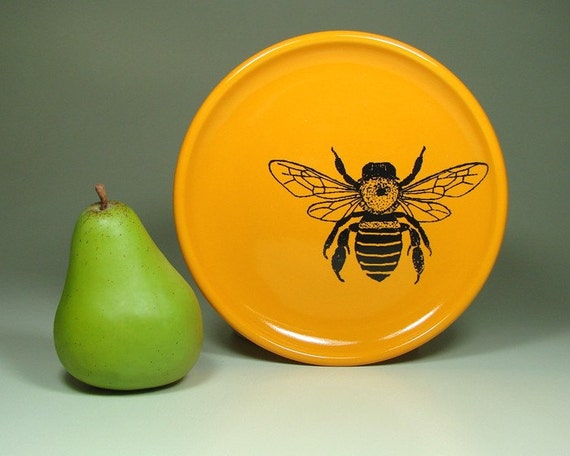 http://www.etsy.com/shop/CircaCeramics?ref=seller_info
Yup, the yellow is back again! But by god, I love this plate! So bright (BRIGHT!) and cheery! I just want to stare at it and soak it all up! I love how this little plate is so tactile, shiny and chunky in your hands with such a bold yet detailed and fragile looking bee on it! Oh how I love it!
This would be the plate I would pull out to eat my toast off, on a bad depression day...you can't feel down with this little guy around can you?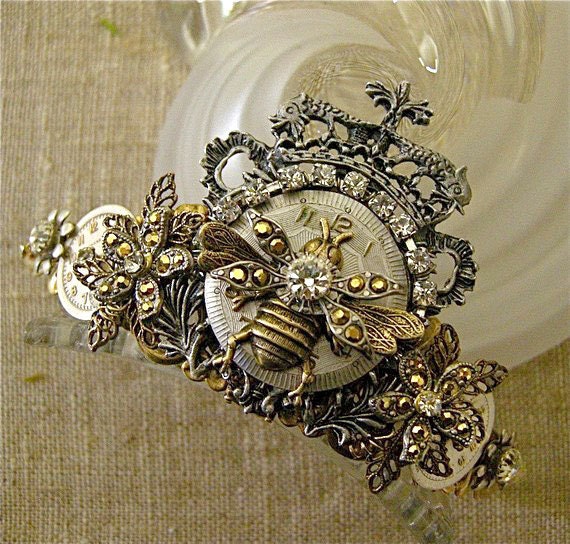 http://www.etsy.com/shop/FernStreetDesigns?ref=pr_shop_more
If I were a queen bee...this would be my crown!
As you know, I love all things steamy and this crown is rocking the look! Its so sparkly! You could spend ages looking at this, admring the sparkling gems, the delicate clock faces and the heavy metal details. It has a nice ambiance and colour-way to the whole piece too! Hell i would sulk around the house all day wearing a big dress with this on my head!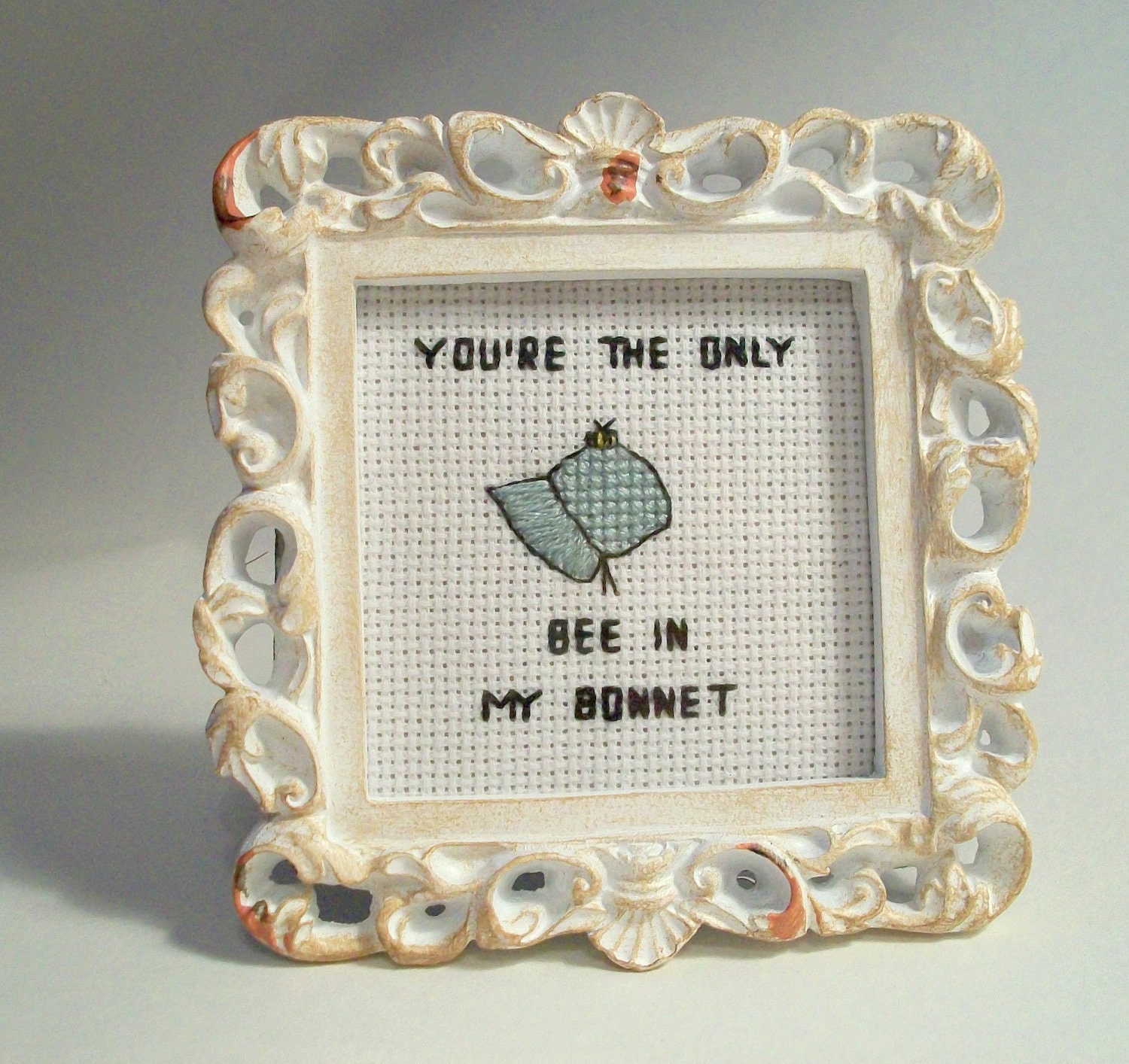 http://www.etsy.com/shop/aliciawatkins?ref=seller_info
"
Bee in bonnet cross stitch -- "Birdhouse in your soul"-inspired cross stitch, completed and framed in small square or round frame.


---The Story---

This is a small ode to They Might Be Giants' song "Birdhouse in Your Soul" -- and to your geeky sweetheart, if you choose. I broke away from my usual zombie madness to stitch it because the song is Just. That. Good. They'll need a crane to pry me away from any stereo playing this song."
Ok! You have me curious now! I'm now going to go and actually find this song and listen to it!
I wasn't aware there was a song out there that featured this comment but we in Britain use a similar phrase from time to time. Often said to someone who appears to be agitated or in a bit of a tizz, I like the whole english/Austen vibe to the crosss-stitch but now that I read the comment above, I'm loving the geeky referance! Thumbs up!
http://www.etsy.com/shop/baraqada?ref=seller_info
"Hey...how you doin'?" I posted this as, as much as I'm liking the little bee plushie, I adore its pose! You can almost hear it talk to you in Joey Tribbiani from Friend's voice cant you?!
Look at this guy's slinky yet sultry debenoir air to him!
He's so cute and well-made!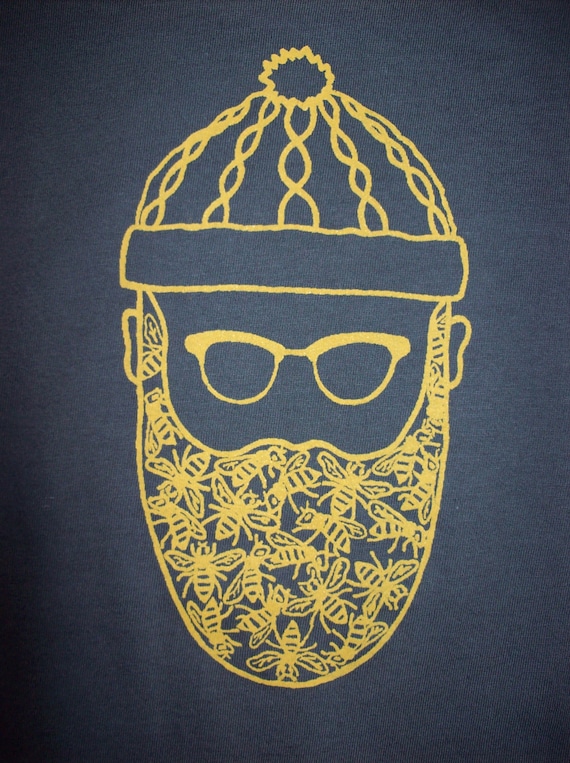 http://www.etsy.com/shop/futurelint?ref=seller_info
A beard of bees! As a child I had a fascination of watching men trying to break the world's record for the most bee in a beard o'bees!
Its a real testament to how friendly and gentle bees actually are! They very rarely sting and rarely agressive too! Its wasps that give the poor bee a bad reputation!
And yes! That yellow is back again! Check out the shop's Lady's Beehive T-shirt as well! They are both stonkingly cute!
Bees are an under-rated yet amazing creature! I hope I raised a little awareness in this posting! We can't all go out and change the world over-night but the next time a bee come nears you, please, please, puuuurlease think twice before whacking it to death with a newspaper!
Bee's are simply...*ehem*...the bee's knees!
Birdie Love as always!
XXX