Hi!
I bring to you another craft share, this time themed on the Pug, in honour of my temporary pet Wiggles, the Black pug puppy who i'm currently pug-sitting for!
Wiggles has been carefully selected and cared for by his owners and as much as I love him and appreciate Pugs, I've seen the amount of work that goes into them and even Wiggles's owners admit he takes a lot of time but they love him so! (nawww!) Pugs need a lot of attention, exercise and careful monitoring on their health, body and diets. They are actually one of the most expensive dog breed one can own in vet bills etc. They are not easy to look after like other breeds and I strongly encourage people to carefully think before getting a dog, if they can commit to it, especially if its a pug! It's fustrating to see this breed being a novelty fashionable trend and the "must-have " dog of the moment, they deserve better than that!
Saying that, pugs are awesome and full of character! And lets celebrate their awesomeness!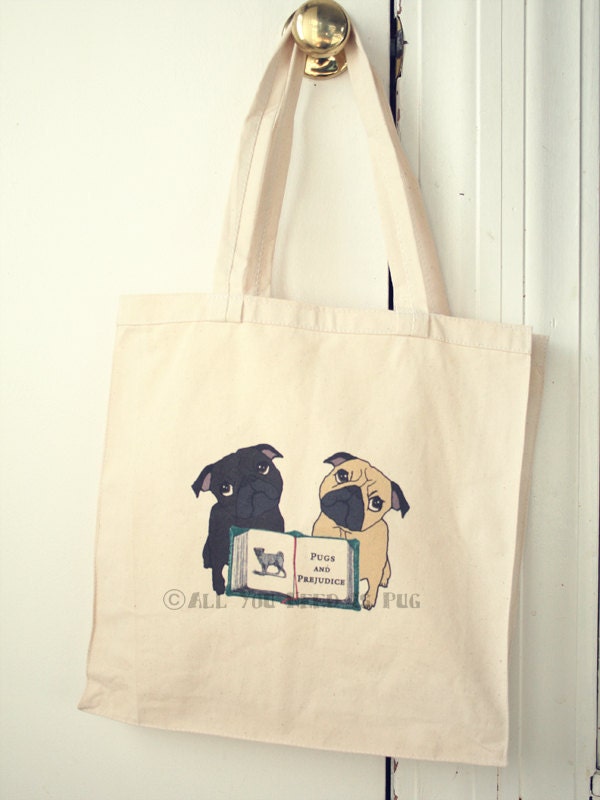 http://www.etsy.com/shop/jessicalynneart?ref=pr_shop_more
Jane Austen wrote literary classics that generations of all ages love and admire. We bet you haven't heard of her rarer work... Pugs and Prejudice! This tote features our illustration of a black and fawn pug holding up a book. It is as pretty as is practical!
Nawwww! I love Jane Austen and Pride and Predjudice is my favourite story pretty much of all time! So this tote just makes my day with all that added cuteness! Who can resist that adorable tilt pugs do so well with their little heads?
I cant!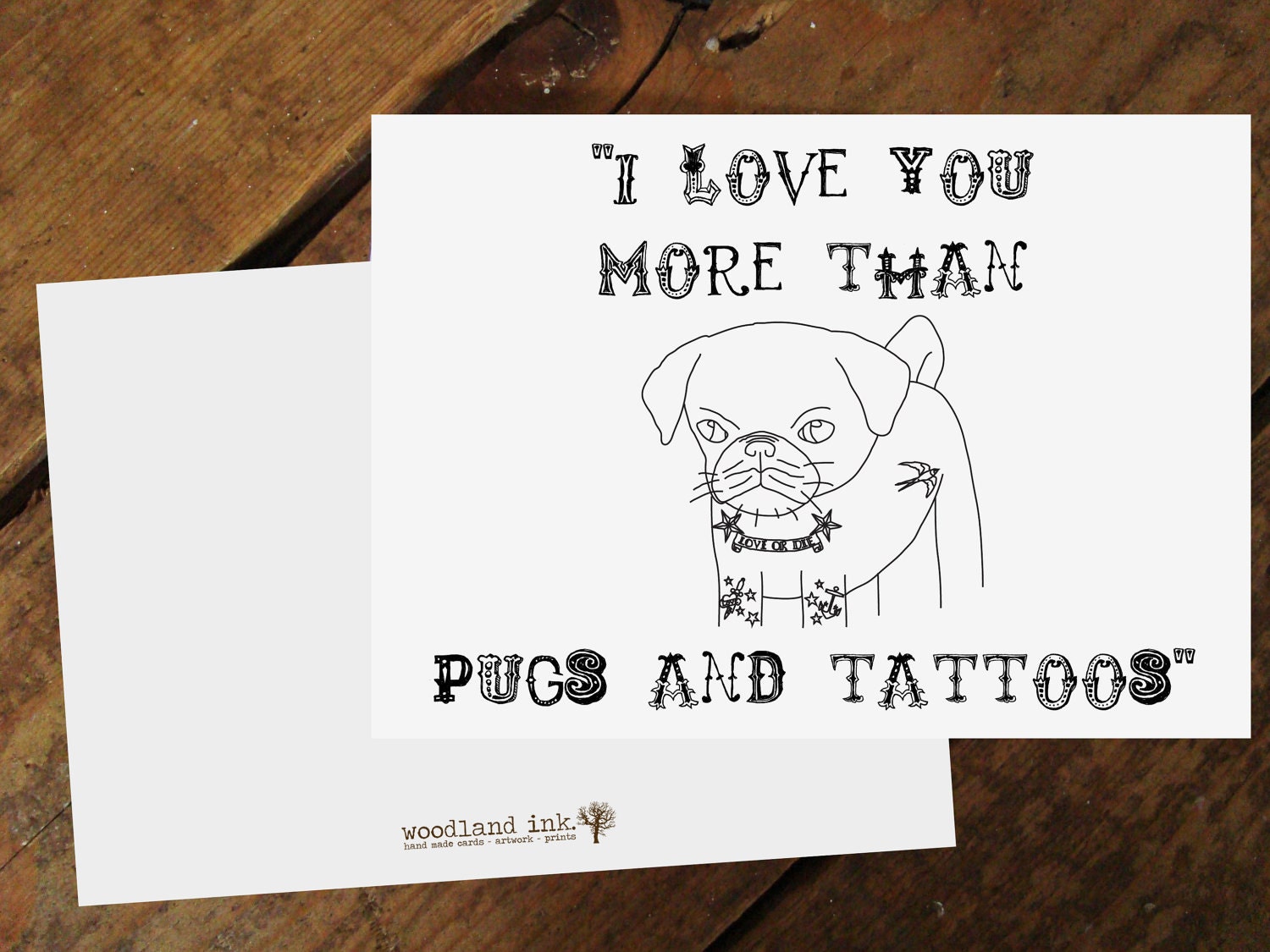 http://www.etsy.com/shop/woodlandink?ref=seller_info
I can think of a few people this card would be perfect for! I actually really like the card illustrations they have in store which also includes this one...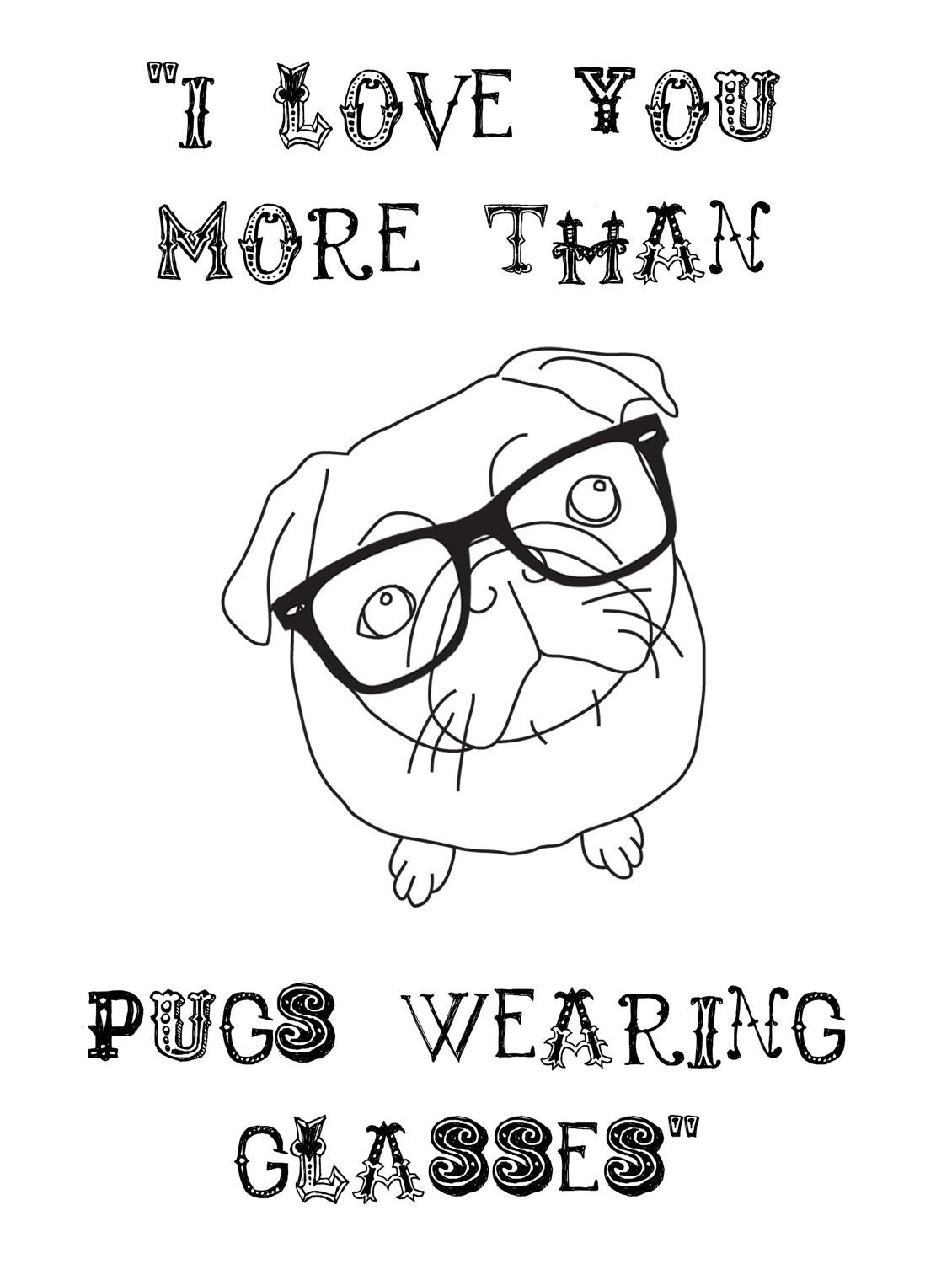 I think the whole style and typography is whimiscal and so sweet!
whatmore, Jade Newman is British! Ahoy there! Great to see a fellow craftster!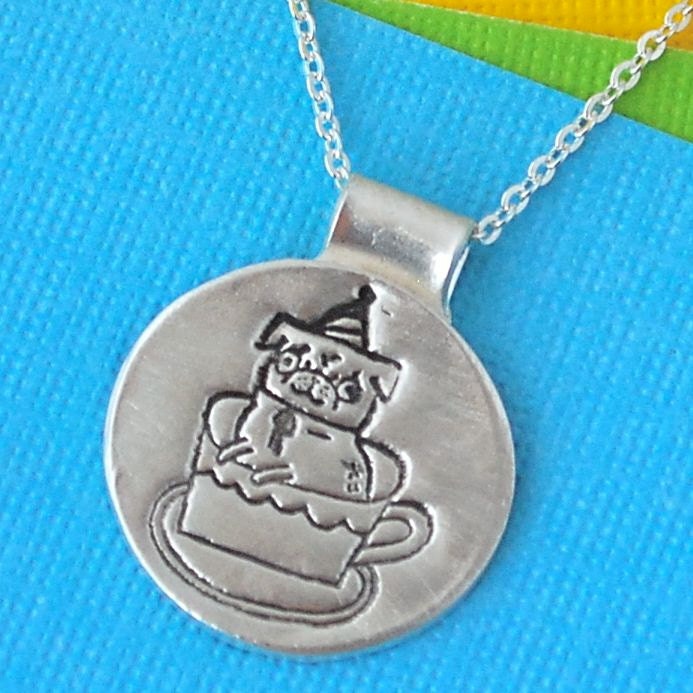 http://www.etsy.com/shop/ChocolateAndSteel?ref=seller_info
This pug is having a party! What a perfect birthday or graduation gift for a pug loving person. And not only is this adorable pug in a party hat, but he's sitting in a teacup too. He's tiny and adorable and full of joy! The illustration is by Gemma Correll.
How darling is this sweet silver pendant? Beautifully made and remarkably from remade silver that Christine Street goes to the trouble to tell us and deservingly so! And what more, it features the wonderful art work of Gemma Correll, a brilliant British illustrator who drawings I love and I'm already eyeing up a print or three from her! This is a wonderful collaboration here - much respect!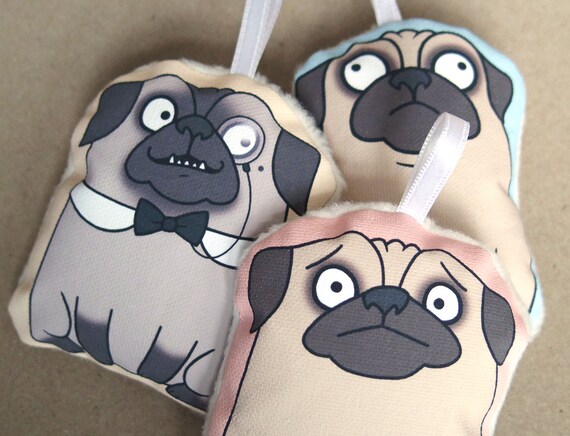 http://www.etsy.com/listing/107686565/pug-ornaments
Firstly I must say i love the designs of these little Pugs! The illustrations just catches the looks and expressions on the pug's faces that really do tug a little on your heart somewhere!
secondly....a pug wearing a monocle!? How grand! I adore the size of these and the fact you can hang them willy-nilly! check out the shop for more puggy designs and the plushie pug too!
And another british craftster too! *waves*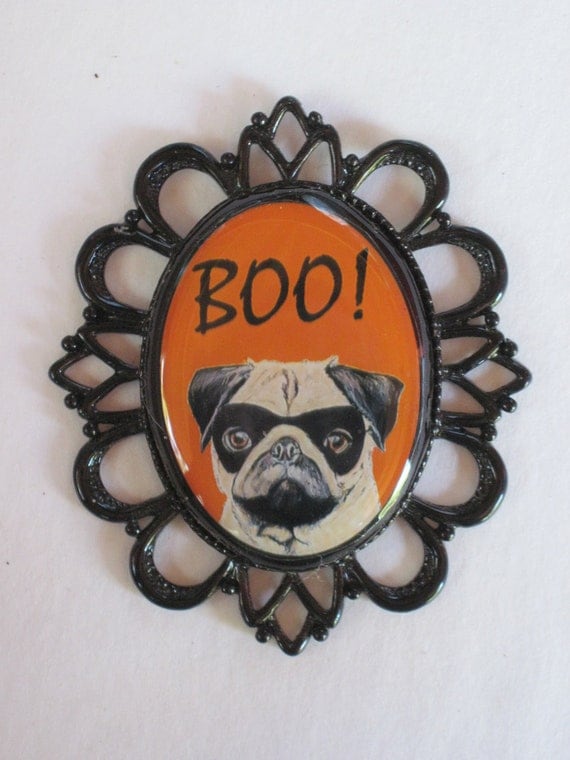 http://www.etsy.com/shop/lindakratz?ref=seller_info
How sweet is this halloween pug with his charming little mask?! What a beautiful little frame its in too! And this is an original piece of artwork too! That pug is hand painted! How beautiful and what an amazing talent!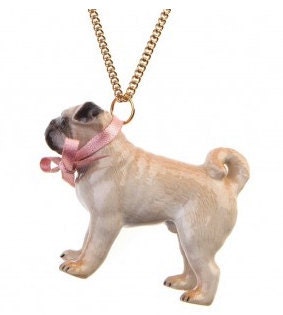 http://www.etsy.com/shop/loveheartsandcrosses?ref=seller_info
This little beauty is made of fragile porcelain and is so dainty and delicate on a gold plated chain....and set off perfectly with that pink little bow! How gorgeous is this?
I can actually see myself wearing this as part of a wonderful chintzy outfit or against a simple top to show it off...completely my style!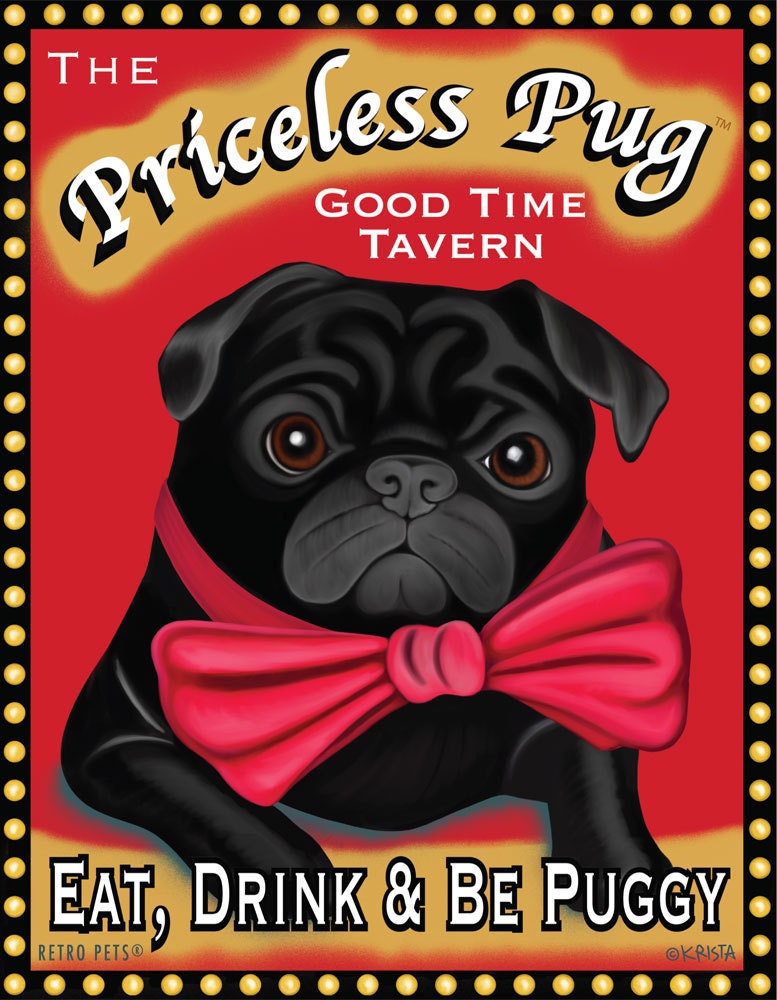 http://www.etsy.com/shop/RetroPetsGallery?ref=seller_info
This is pretty much how Wiggles looks! With those wonderful meltingly brown chocolate eyes and although Wiggles is currently wearing a blue collar, he would certainly look as dashing as this pug here with a splendid red ribbon around his neck - such style!
What I love most is the "eat, drink and be puggy!" ...Puggy! *happy face!*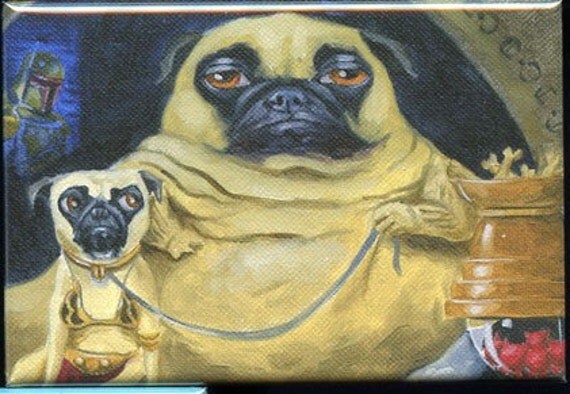 http://www.etsy.com/shop/rubenacker?ref=seller_info
*takes one look and starts cracking up!*
Oh my word! how brilliant is this?!
*wipes tears away*
Oh ho! I just love this! And please, please, please check out Brian Rubenacker's shop for more wonderful prints and images! they are so quirky and guarenteed to bring a smile out on your face!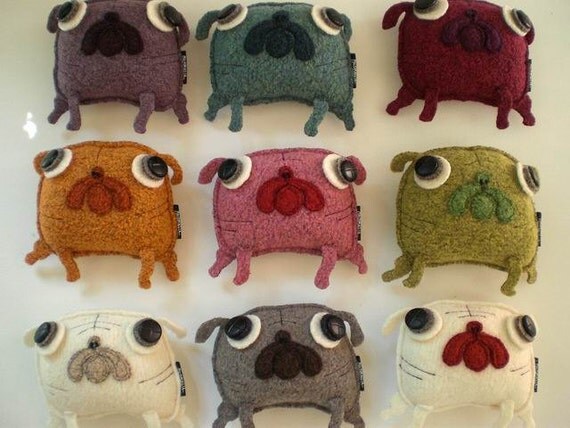 http://www.etsy.com/shop/maldimaglia?ref=seller_info
Made of merino wool and in wonderful array of colours, I think these cuddly pugs are adorable, especially their little bulging buttons eyes that captures those of a pug so very well! I imagine these to be very soft and tactile to hold and wonderful to snuggle up to!
I just can't stop looking at their little faces!
and finally....
remember...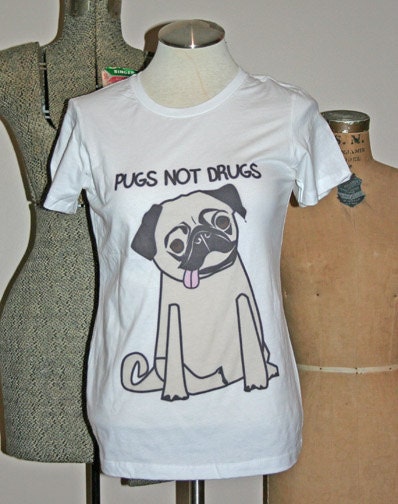 http://www.etsy.com/shop/BobbyLerza?ref=seller_info
Pugs not Drugs!
This is actually a pretty well known slogan here in the UK and I've already seen quite a few examples of this but this t-shirt is one of nicer ones out there! Look at that little pink tongue sticking out!
:P
What you think?
did you enjoy this craft share?
Birdie Love!
xxx