Hello! Today I bring to you a craft share based on one of my main loves - books! And there is no where i rather be than browsing a bookshop or library and tucking up with a good read!
So I am showing and teling about a few wonderful handcrafted goodies I have found and loved enough to share with you!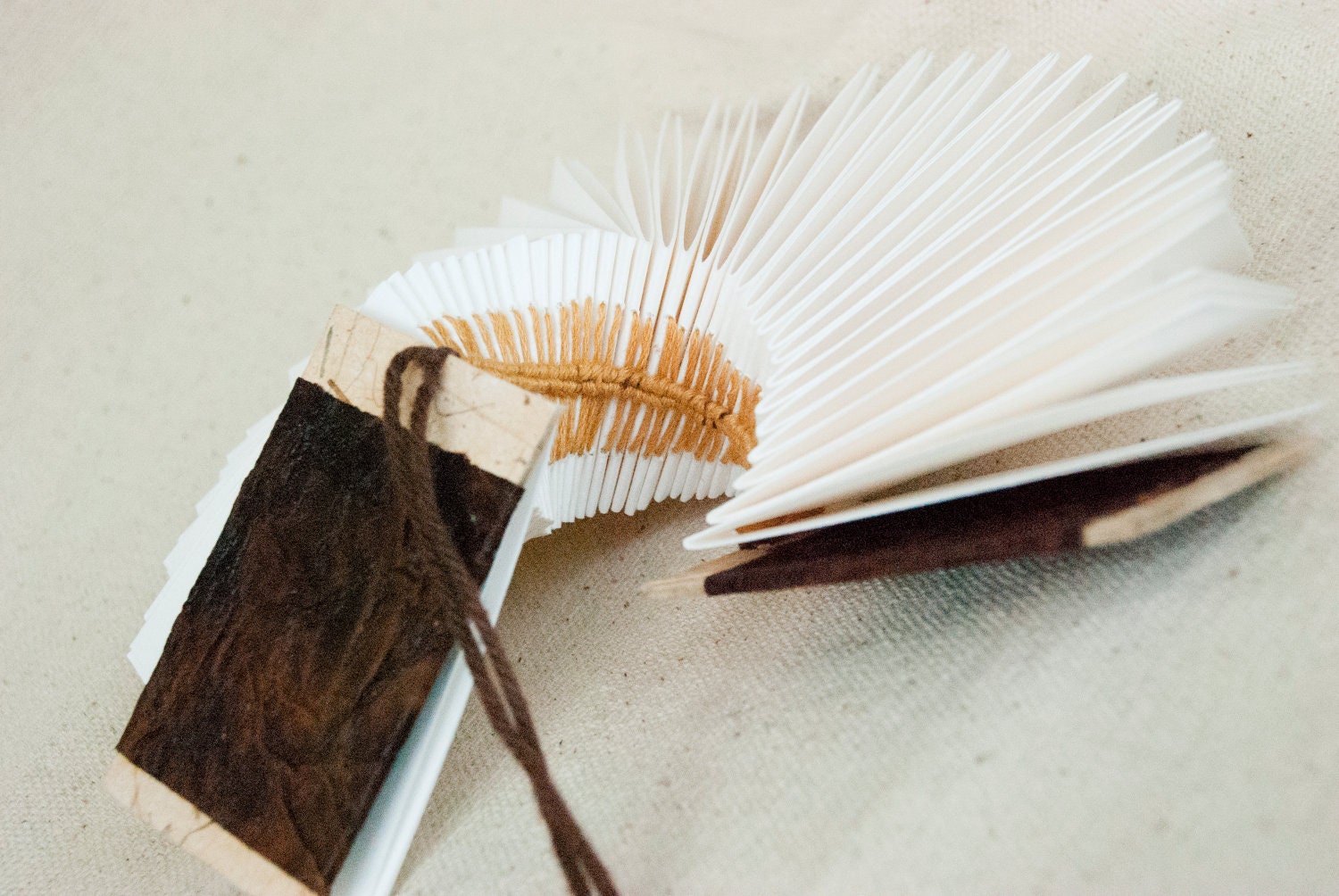 http://www.etsy.com/shop/xushan?ref=seller_info
Its a book...but with a bendy spine! i love this for thinking outside the box when it comes to a book...and what more you can get to see the spine itself! So beautifully stitched together and its small enough that you would just be playing with it and admiring its perfect little form! Pretty!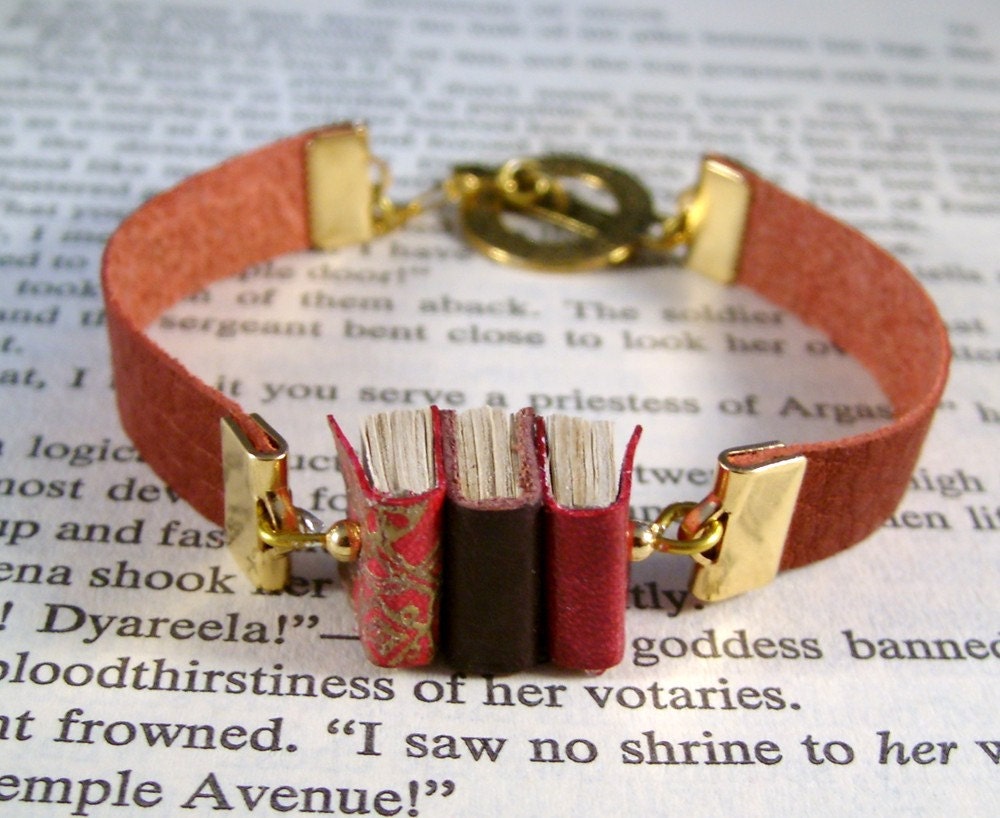 http://www.etsy.com/shop/JanDaJewelry?ref=seller_info
Aww wow! How sweet and wonderful is this?!
And what more, JandaJewelry has this to say -
"
I recycle old leather from shoes,purses,coats,just about any thing and turn it into these adorable little books.You can put them on a necklace,put them on a charm bracelet,or just about any thing you like.
I hand age the paper then hand cut each individual page.I put it all together throw in a lot of love and the end product is this beautiful little book.
Besides my family I have 2 loves--miniatures and jewelry--with these I get both.I hope you love them as much as I do."
Oh If you're making miniatures like these, I think I beyond love them! So beautiful and so unusual and brilliantly recycled too! I know if I had this baby around my wrist I would be staring at it all day long!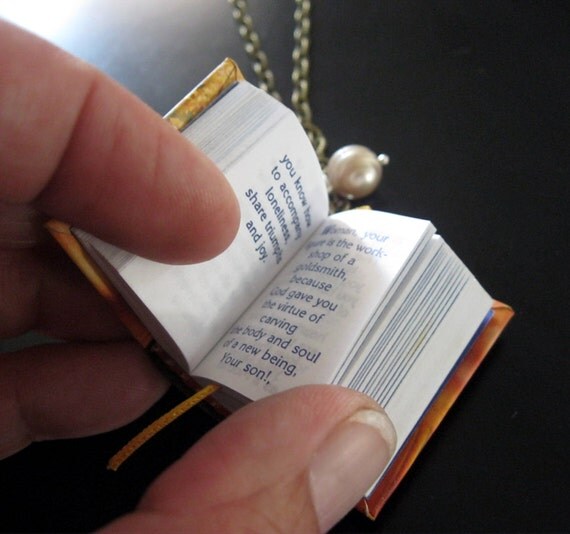 http://www.etsy.com/shop/monaco?ref=seller_info
Tiny book necklaces is one thing but tiny book necklaces you can actually read, containing poems....Love it! It's so cute I would wear this all the time! Beautiful! Nice one!
http://www.etsy.com/shop/TheWriteStuffDesign?ref=seller_info
What a wonderfully made book-bag, made using a real book! I love how the fabrics is carefully chosen to compliment the book cover and the shape of it too is so unusual. For me its a piece I would love to get my hands on and run my fingers over it, so tactile! Check out the shop for other book-bags, including a rather amazing pink Alice In Wonderland bag!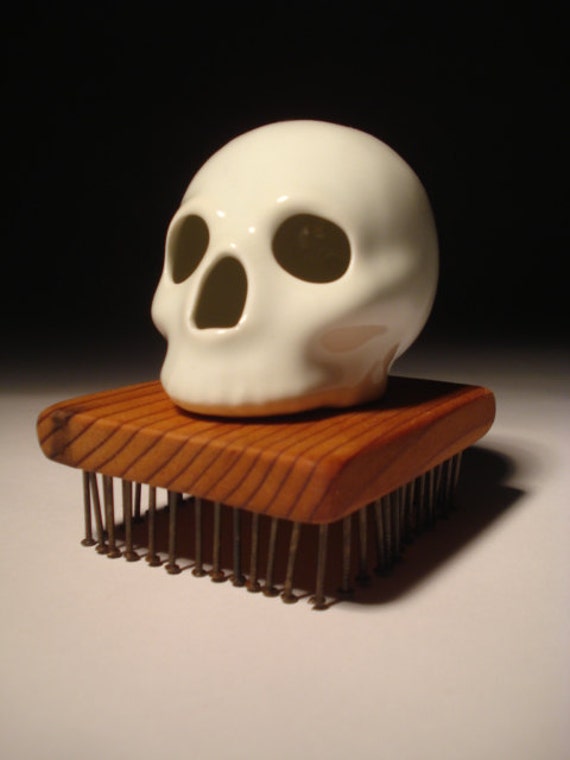 http://www.etsy.com/shop/skullhouse?ref=seller_info
When I think of libraries, I think of huge ancient buildings, lined with heavy wooden shelves and furnitures, stacked with curious as well as books...something like if it's from Hogwarts. I would have a skull or some biological artifact on the wooden desk and saw this beautiful piece! Such a wonderful relic, just the right amount of gothic twist to sit spookily in any library and so beautifully unusual too! I love this piece, I love how it sits upon the nails!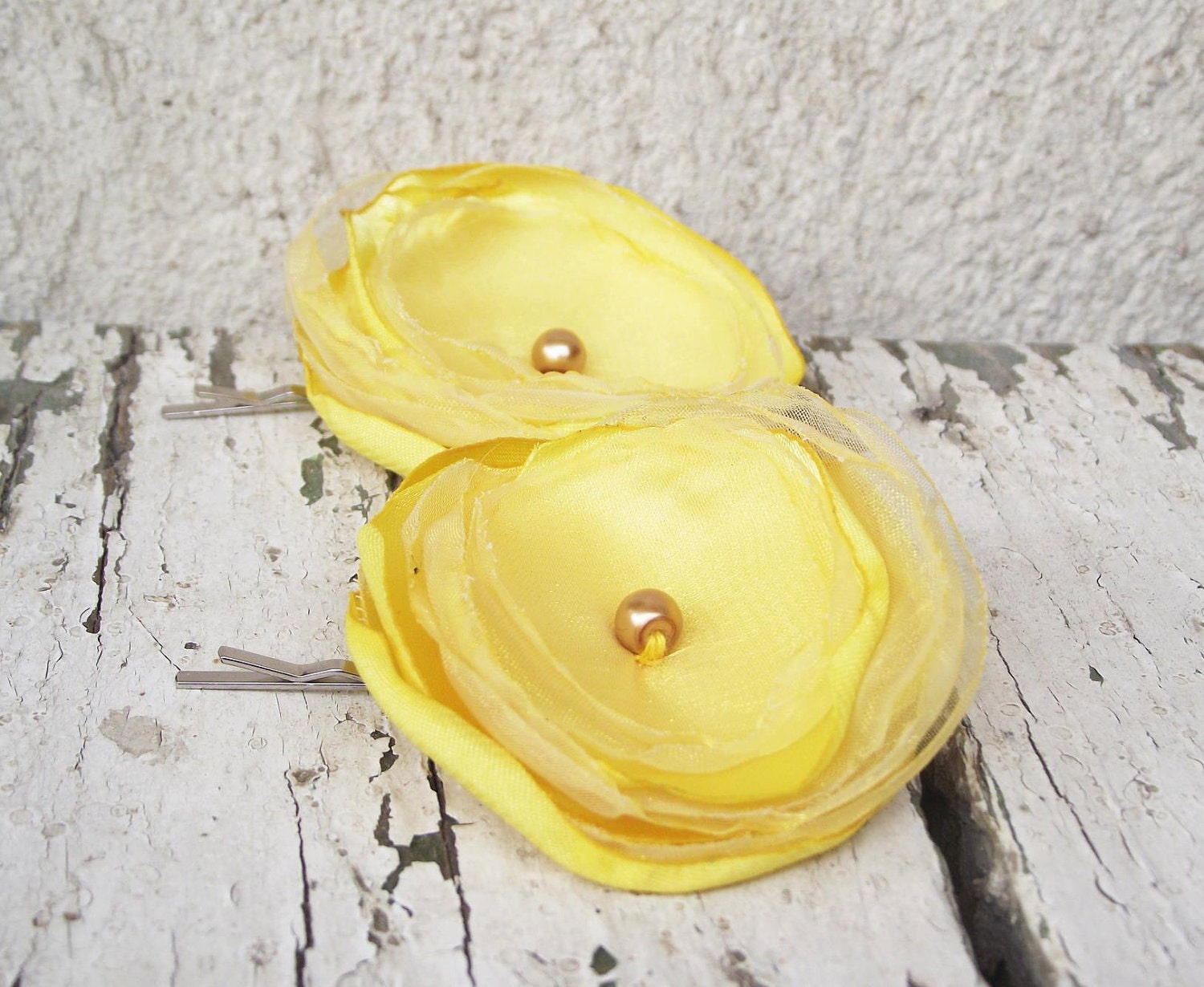 http://www.etsy.com/shop/FlowersByKara?ref=seller_info
I love the papery texture of this wonderful flowers, reminding me of aged books, yellowing with time. This has just the right amount of sassy to wear as librarian chic! So pretty! <3 p="p">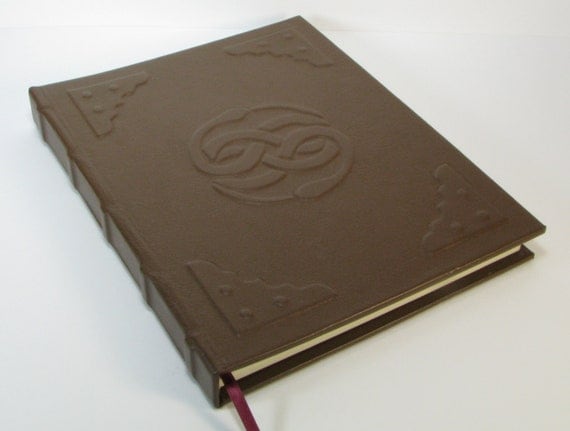 http://www.etsy.com/people/DWEmporium?ref=ls_profile
If there is one book you want to come across in your ventures within a library...its this one! Can you guess from the cover what it is? That's right! "The Never Ending Story!" I love the movies as a child and dreamt I would find a book like this one that would take me away to another world...I think that is the mainstream appeal of books anyway, the escapism within its covers!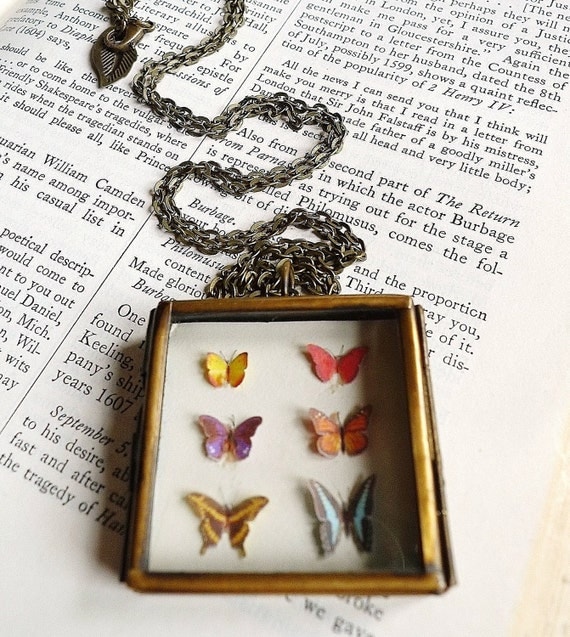 http://www.etsy.com/shop/TinyTastyJewelryCafe?ref=seller_info
I have a thing about Miniatures...(can't you tell?!) and this is perfect for me! I think of libraries as having strangely wonderful pieces up on the walls, such in the natural world section. There's something beautifully macabre about animal specimens displays and man has learnt alot from such things.
These butterflies have so much details in them, they even have antennas made of eyelashes...wow!
This is so beautiful, the door even opens and it has a glass case front! I love this so much and in awe of it! awww! I want, want, want!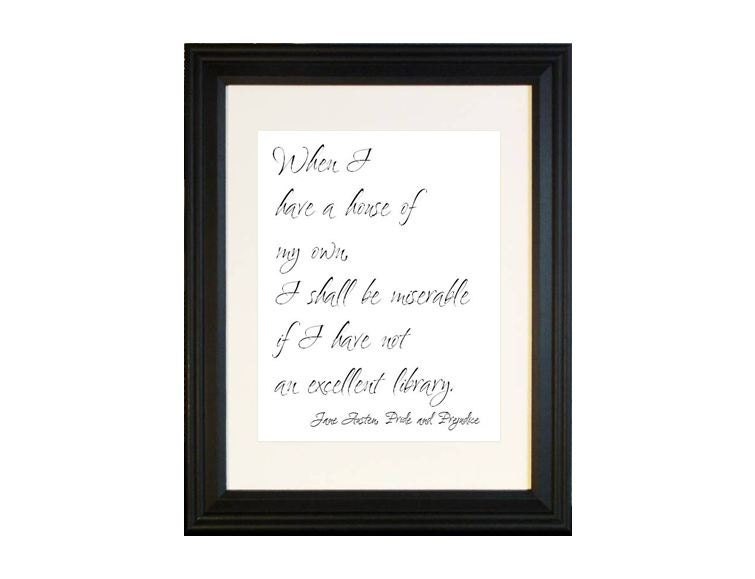 http://www.etsy.com/shop/breedingfancy?ref=seller_info
I'm a big fan of Jane Austen and this print rings true! I always want a Library in all my houses, all my life...I'm not happy unless a wall somewhere is covered ceiling to floor in books!
*thinks happy thoughts*
Pretty print! :)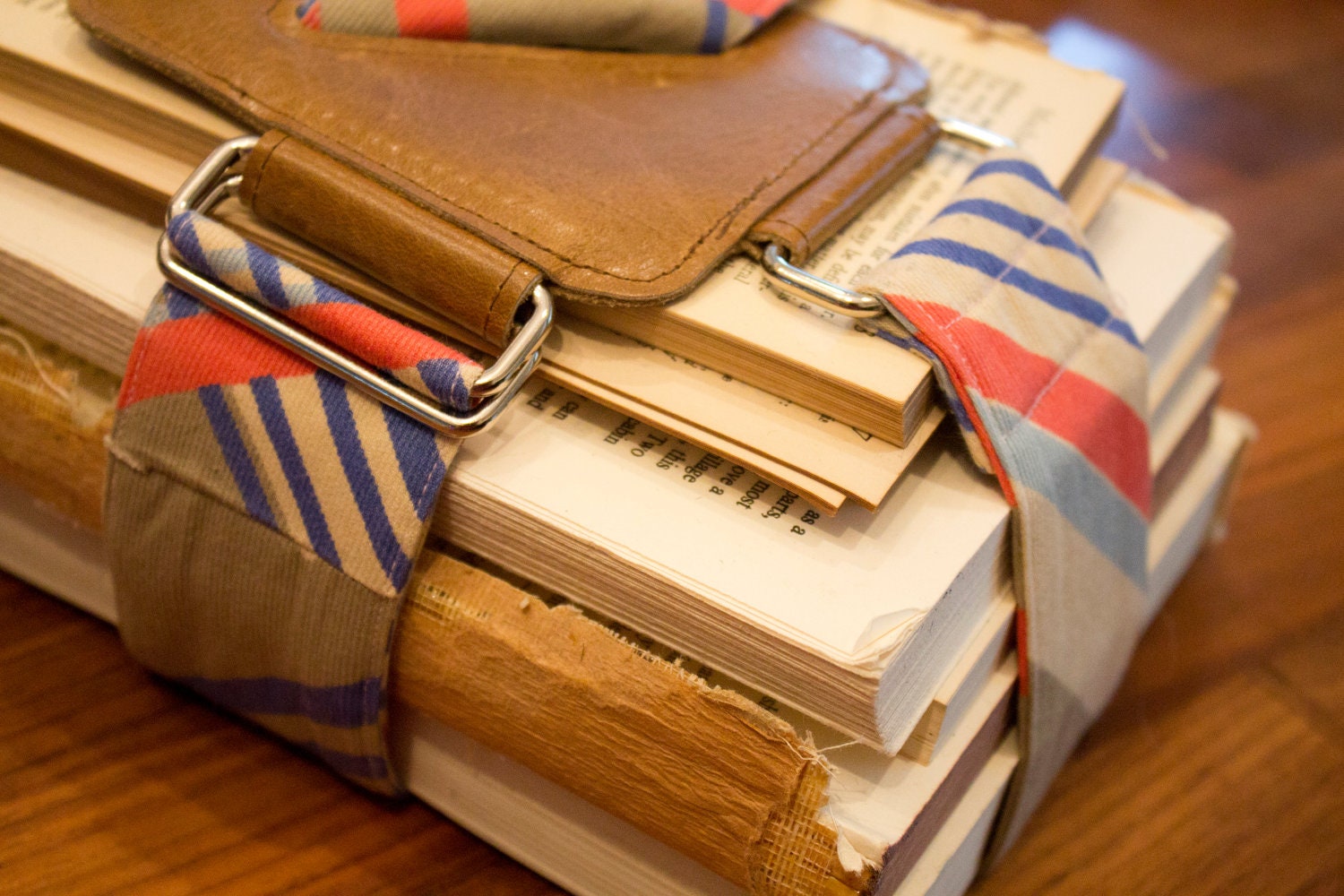 http://www.etsy.com/shop/WalshWalshandSon?ref=seller_info
Aw wow! How wonderfully old fashioned is this? Ever since I was a little girl, I always wanted to carry my books home like this! This is amazing! :)
This is such an amazing post and no doubt one I will revisit again in future and continue to build my dream library!
These craftsters are amazing and pushing the boundaries in terms of skills, ideas and details! Well done!
What do you think?
Birdie Love!
xxx
3>