Hello! How is everyone?
I bring to you, the ever popular craft share in honour of rabbits...more so in honour of Bruce the bunny, as regular read readers would know is my pet bunny who think he is a dog and possesses a larger than life character!
Nawwwww! how tiny and sweet is this little baby? I have this thing for bottle necklaces and bottles with tiny miniatures inside them? Even better! And what more, you can get that little bunny custom painted! Teal rabbit with a pink tail anyone?
I love how perky the ears ore on this little bunny! And what a sweet little face and dress! what more, her limbs are attached to the body with buttons for added flexibility. I think that is such a sweet touch and gives a more crafted and treasured edge to her, making her a little item you'd treasure forever and pass down the family.
Simple, naively sweet and whimsical, I adore the clean lines and simple sweep for a nose and twinkle in the eyes! I can already see one hanging up on the bedroom wall, as they look that dreamy! I admire the posture and the little feeties of the bunnies too, such a lovely little thing to have and to hold, no?
How kawaii (cute in japanese did you know?) are these little hair clips? Such wonderful, dreamy shades of pinks used and cute little bows around the ears! I think these would look so sweet in any little girl's or slightly older girl's hair for that matter!
And they are on sale now too and at a very reasonable price!
Oh my...I'm seriously in love! I just love, love, love this little world-within-a-dome!
And the poem for this little rabbit is so sweet too...
Walking thorn-hedged fields
along sunbaked ochre paths
birds above
hovering
diving
gliding
and then
in the distance
a rabbit peeks
over the long grass
and
disappears
MiniMemoryWorlds' shop holds an array fo sweet little domes that I can't stop staring at and falling in love with each of them over and over again! I so very much love to get one, one day!
Amazing hey? Really worth checking out the shop and browsing to admire such beautiful mini worlds!
What an unusual fascinator! I can certainly see this being worn by a burlesque artist or indeed to a Alice in Wonderland party!
I'm guessing this is all needle felted and if so, such skill! I would love to see how one of these is made...and maybe a toadstool! Such patience and such imagination! Nicely done!
I love to collect mini-zines and home published comics and zines by crafters and artists and anyone who got a wee story to share! I love the tiny size of it to start and it already tugging heart-strings with me as my very own Bunny baby can be bit of a riddle at times in terms of behaviours...then I saw this...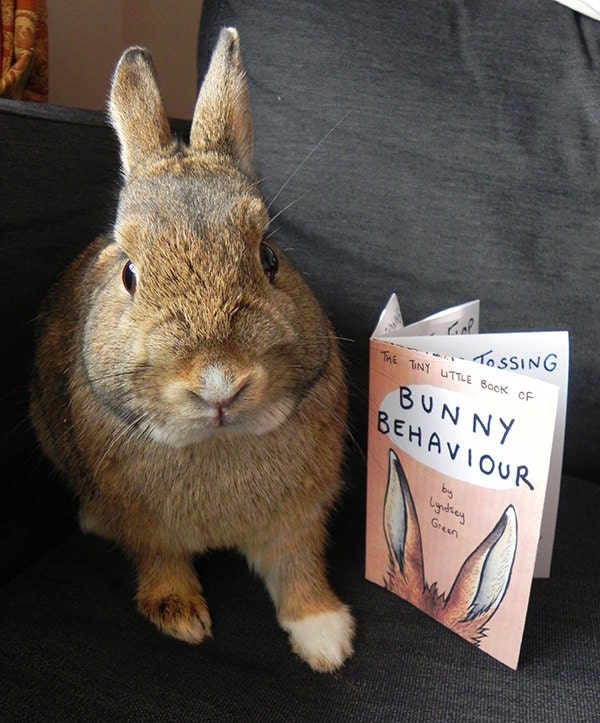 The publisher has photographed it with a sweet little bunny who also looks strikingly similar to Bruce! naaaaaaawwwwwwww! What a cute, fluffy way to promote a sweet little thing! How did you get him to stay so still for a photo?!
Can you resist?!
This little bunny really does look a lot like Bruce! He even poses like this when he is out the cage and having a run around! What a lovely little brooch and rabbit art work.
What a lovely little play tin and a brilliant idea to entertain children out and about without carrying bulky toys around!
I love how you can actually "plant" the carrots into the ground! And the little bunny snuggle bag for him to sleep in! naww! I bet many children would love this!
These amazing little figures are awesome but not as awesome as this little story...
"These creations are inspired by my rabbit. Found underneath a bush, not much about my bunny is normal. Naughty and stubborn, he lives to prove that no one has to exist under any labels or pretences. Though born a rabbit, he has chosen to live life like a dog, a cat and sometimes a monkey. Unfortunately his days of reckless abandon left him with a shattered femur and we had to amputate or euthanize. Once compared to Indiana Jones and Evel Knieval, this bunny is now called "The Dread Pirate Rabbit" as, like a pirate, he is still full of tenacity and spunk despite a missing appendage.

These rabbits act as a small reminder of the resilience and exuberance of rabbits and how each of us can add a little bit of that to our lives."
Love it!
And on that sweet little note, here's my little bit of exuberance of a bunny, Bruce!
Me snuggling with Brucie, my fur baby!
hope you enjoy this bunny craft posting! A wonderful shout-out to the craftsters featured in today's post, may their crafting endeavours take them forward to brighter and beautiful places!
Bruce and Birdie Love!
xxx