The inspiration for this craft share is the hundreds of blossom trees that have erupted into bloom in the last few days!
so amazingly beautiful, its very hard to ignore nature's finest display of spring's arrival in all its flowery glory!
So tiny, fragile and delicate! Such a lovely blush of pink in the petals! Out of the many blossom jewellery out there, this one captures the whole ambiance of the flower for me.
And I adore that lovely pearl in the middle for an added touch that really elevates it into such a special keepsake! Hope my beloved one day gifts me something like this! (...knowing my luck, I'll end up having to buy it myself!)
I love the simple pale blossom flowers against the vibrant mustard yellow background...in fact this is my other favourite colour!(the first is teal!) I can't get enough of that warm, sunny mustard yellow! I would wrap myself up in it if I could! You can't be sad with this colour close by!
LOVE this!
check out allthingsaccesories' shop as the infinity scarves there are so beautiful and such wonderful colours and prints.
"I rolled out my creamy white clay and pressed in a cherry twig, then placed over my hand made plaster mold to shape. I fire and paint with underglaze colours, followed by clear glaze and fire again. "
Such a beautiful bowl and a lovely finish. I like the technique Marieanne used to achieve the design by impressing the blossom branch into the surface.
I also adore that creamy whiteness of the clay! What a lovely material to use!
"More than two hundred hand-sewn gorgeous felt flowers will keep you cozy!"
Wow! what an amazing sight! How so very, very beautiful!
The details of each flower is so very sweet!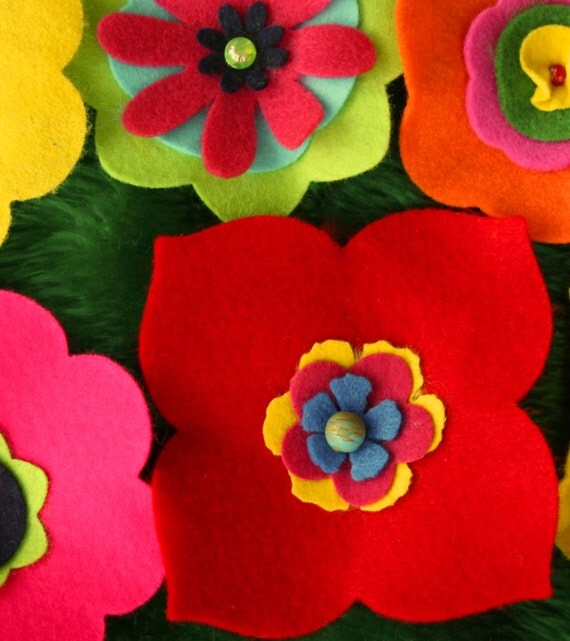 The bright colours is so cheery! I always wanted to cuddle in a blanket of flowers! There's something so very Klimt-like about the piece!
I'm in love with this blanket!
Awwww! So pretty and cute! Loving the hot pink stamens in the middle! I would just have a box of these and stare at them....and maybe recreate that famous American Beauty rose petal scene.....
Maybe not!
"This little robin has found a perfect place to create her nest. It is a little blue cup with branches and white flowers on it"
D'awwwwwwwwww! How sweet is this little piece? I admire the colour co-ordination of the cup with the eggs and the nest which blends so beautifully well.
It looks all so snuggly there doesn't it? such a soft, tactile piece that I truly admire for the amount of design skill and labour of love. It is really worth checking out Mary's shop as some of the pieces she makes are just mind-blowingly sweet and amazing! Beautiful little worlds in a tea cup or a nut shell like these...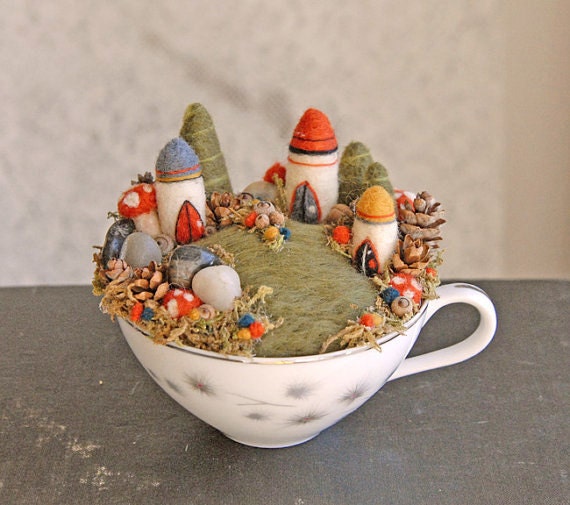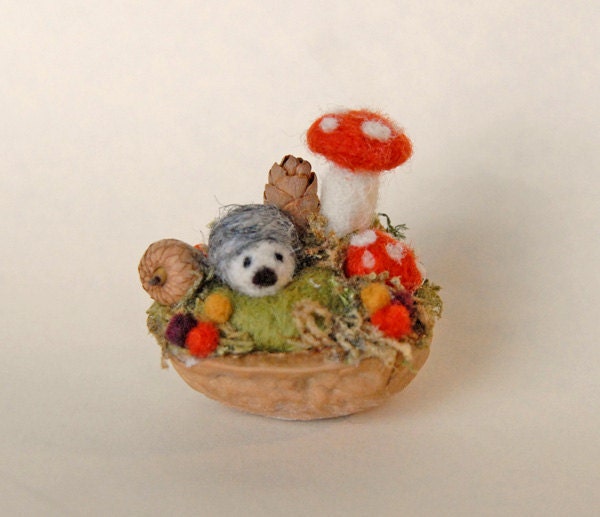 "Serenity comes in a variety of ways. This scarf is one of them. It celebrates the ancient cherry blossom festival and the warm feelings associated with it. This is my best-selling scarf; it is enjoyed by many!"
And this is painted in free hand too! so beautiful! I can see why this is a best seller! Such beautiful colours used and there's a wonderful delicacy to this too. Wouldn't you treasure it forever?
It is worth checking out Alananat's work as the scarves she produces are so beautiful and theres so many wonderful effects she achieved with silk painting.
"Sipping tea is often a contemplative and meditative process (I know it is for me…). This medium size ceramic teapot with two cups combines the simplicity and innocence of Cherry Blossoms to evoke that essence. The color subtlety, barely there, blends with the delicacy of the flowers and adds to the gentle art of drinking tea."
What a beautiful teapot! And I couldn't put it better than how Yevgenia has put it! there's something about cherry blossoms that goes with the art of tea...maybe something about the tranquility and peace they both bring. I love the hand painted style, so stunningly beautiful!
Looking thought the shop, I'm loving the style Yevgenia has and her beautiful touches she brings...especially those glass lidded mugs!
What a great collection of craftsters no? As always, it is lovely to share some of the beautiful things made by some talented people from around the globe!
Enjoy the blossoms where ever you are!
Birdie Love
xxx