Upon a recently trip to London, we enjoyed a rare treat of dining at the Roux, something I been wanting to do for a long time as a lover of food and cooking. I was lucky enough to secure a champagne dinner deal there for a reasonable price and away we went!
The menu was to die for! Despite it being limited in numbers for option, the options themselves were amazing to read and to imagine them upon your tongue!
The area in which the restaurant is set in the Landau is simple but beautifully set out with the main room set up and focused seemingly on the four seasons. The lighting here was wonderfully intimate and sumptuous and the silver service was warm and friendly, the staff having just the right balance of helpfulness and service and knowing when to retreat away and give you space.
While we made our orders, we were served with water, freshly baked rolls and wonderful lighter than air "cheese puffs"...I really could have eaten a plate of them and I'm amazed at how light these were for something fried.
The starter was oxtail and celeriac terrine with beetroot and horseradish mousse (read the menu above!) and it was so intensely meaty, the flavours just burst upon your tongue. In simple terms, the tastes would be of a well made beet stew but with all its components an wonderfully developed dish that let each ingredient shine well on its own and collides wonderfully to add another flavour dimension.
Even the water is Roux approved!
I had the guinea-fowl for mains with the most unbelievable gnocchi that I still dream about even now...and the tomatoes-I hate tomatoes but these were gently poached in a wonderful flavoured something that I frustratingly cannot recall what it is! There was a wonderful touch when the waiter produced a tiny little silver saucepan and poured the wonderful consommé over the dish which was a fanciful but tasty flourish!
The dessert was caramel chocolate mousse with milk ice cream (a posh version of rolos with oreos and milk!) It was a lovely light but intensely gorgeous way to round off a meal with the mousse having a wonderful surprise in the middle! And the presentation of it is amazing don't you think? The hubby treated us to a wonderful dessert wine as recommended by the sommelier which really made the sweetness of it all sing! Do not under estimate dessert wines, however cliché you may think of them!
Tea, coffee and petite fours followed - small but beautifully formed and delicious!
I managed to grab a quick picture of someone next to us getting served from the cheese trolley! It was almost enough to make me regret choosing the mousse over it! the array of cheeses were eye-openingly beautiful and I safely know that next time (if i'm so lucky!) to order the cheeseboard instead! (one of my wedding cakes was cheese wheels did you know?!)
silver service tea! I really do think we need tea services like this again in our society...we can really take our time and enjoy!
That little Roux sweetener case you see above? I managed to take it home to stick up on my wall so that every time I see it, it reminds me of the nice time I had there and how much I achieved to get there!
I'm so pleased I got this chance to enjoy a meal there and got to experience the food first hand. I remembered growing up and reading through cook books by the older Roux generation and admiring how they can take French concepts and give them fresh and wonderful twists, pull it up to date and present it to the public who grown to appreciate it. With the Roux family, perhaps our beloved food culture world wide and fine dining wouldn't be as we know it.
I booked this meal deal months ago and it to me, represents a wonderful moment where I could sit back, enjoy and to reflect on the hard work that built to that moment. really, dear readers, it is so hard to convey after everything that happened, how very special it was to be there first hand, enjoying something like this.
So all I'm left to say, in the words of Michel Roux Jnr ..."Unctuous!"
Birdie Love xxx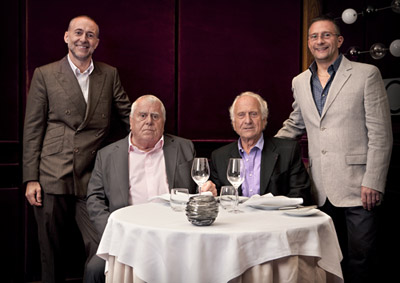 picture source