My dear old pops recently had a hard time going in and out of hospital. After surgery to help aide him with weight loss, things went wrong for him and he was left in a lot of pain and spent a few days in and out of A&E....poor daddy...
He is starting to perk up now and is looking better and already slimmer (though due to his ordeal more than anything)
One of the things he has recently said what he was looking forward to looking his best again and enjoy mens fashion more.
And one trend that appealed to him very much was steam punk.
Not the full googles and cogs of it all but the fabrics, the colours, shapes and tailoring and the general presentation of menwears in this area. I agree with him, men who wear clothing of this type look wonderful, dignified and handsome and it seems many agree as the trend is growing larger and larger.
I told a few people of my dad's wonderful ideas and wish to wear steampunkery and he's now been dubbed "the cool steam punk pops"
So this craft share is focused on menswear in honour of him, my dear dad! May his moustache be always full and his brass buttons a-gleaming!
"Steampunk can be all about the overwrought and overengineered, and I love that. Buckles here and there, buttons, straps? Beautiful. But sometimes I like to clean up the line a bit."
Couldn't have said it better Rob Clement! (I just realised you live very close to me over the Saltash Bridge! How blooming marvellous and how local is that?!) This waistcoat pretty much captures what appeals to my dad, something wonderfully "steamy" but can still be worn for everyday use. And that is perfect!
Simple but beautiful and any man wearing this will look super-dandy I say!
I also very much love the musketeer waistcoat and the wonderful Erida trousers I favourited for myself!
So do check out the shop for more lovelies!
Ooooooooh! How dashing is this lovely doublebreasted waistcoat?
Look at those buttons! And the collar and wide lapels is just awesome!
serious lusting is going on right now!
Our collared, double-breasted Thornhill waistcoat is fashioned after a mix of historical styles. We love for our garments to be as versatile as possible, so your imagination is the limit! Whether you're a demon barber, a gentlemanly explorer or a ring master, we're certain you'll feel like a million pounds in this number. - dreadnought designs
"Time Traveling party people, this steampunk formal jacket makes your entrance on the scene unforgettable. Chalk stripes, inspired by the sculpture of Giocometti, transform this jacket into a work of art. I used traditional punk rock and street art stenciling techniques and enamel paint." - Ann O'Lear
Hats off for such wonderful dedication to techniques used to achieve the final overall effects! It's truly stunning and such an innovative use of enamel paint! I wouldn't have ever thought of that but judging from the finished effect, it worked wonders! Such a wonderful jacket!
And here's another O'Lear jacket for you to see the wonderful effects of enamel paint!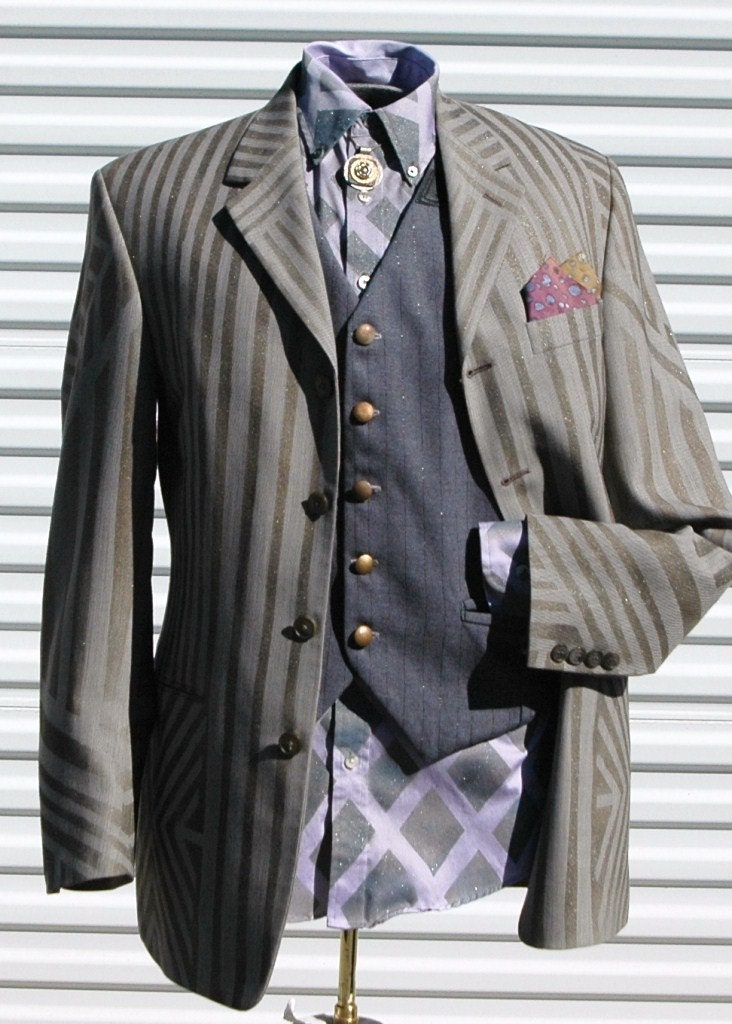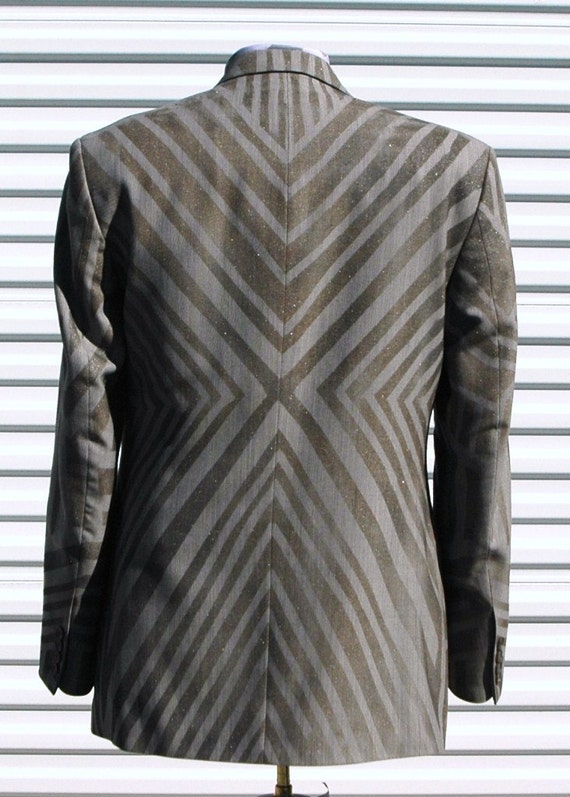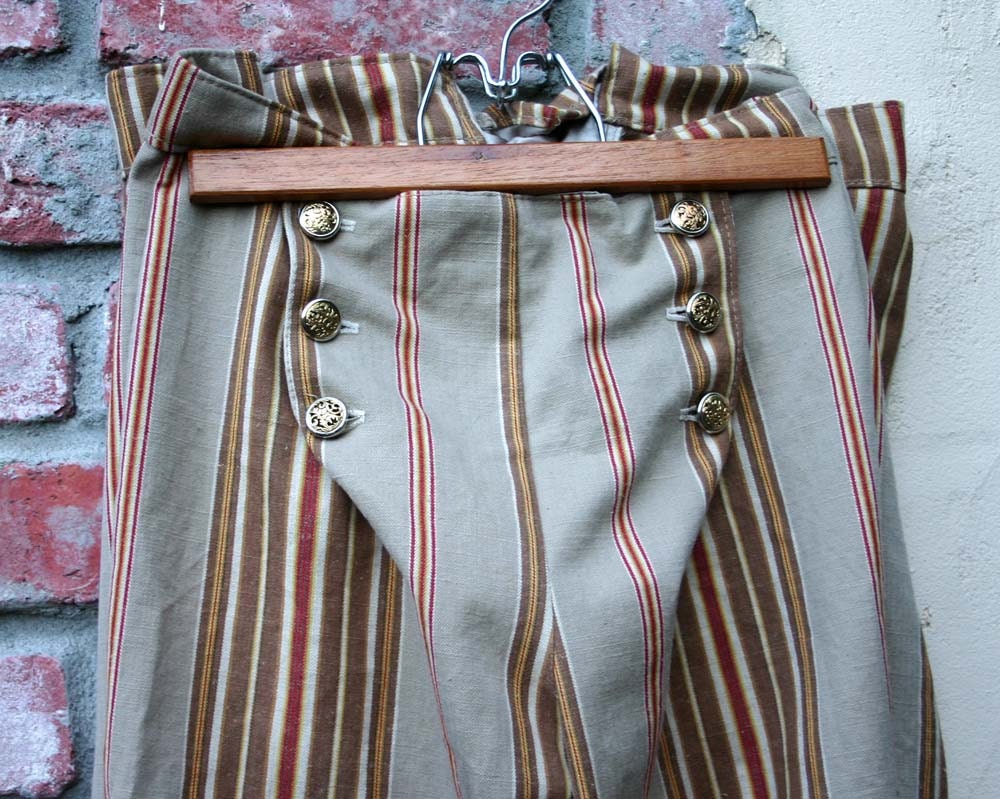 *wolf whistles*
What a wonderful pair of trousers! and so beautiful in their fabric and colours too!
This lovely man in the picture above carries them off very well indeed and also beautifully shows us a typical Steampunk outfit at his very best indeed!
So very, very nice! And the shop has a wonderful array of beautiful vests and trousers galore! A very nice place to browse and to admire more of the sumptuously dressed model and take inspirations!
Here's another O'Lear creation but I pulled this one into the post as this vest is very different to the many steampunk vests that show up, all very similar to each other. This one is lovingly edged with oxblood (very steampunk!) leather and top stitched in silver thread....oh my! How much work goes into each garment?!
ut the finished effect is so very nice and worth every penny no?
What a lovely bowtie with a sumptuous flourish added to it!
I do adore the metal tips added to the bow as it lends it a wonderful "edge" to the overall look.
A lovely piece to finish off a wonderful outfit! Men! take note! Its the small details that makes the outfit!
When I think of the typical male steampunk outfit, shirt garters are the one thing I think makes the outfit complete always! they were commonly worn in Victorian times and they for me, pull an outfit together and gives its a gentlemanly edge.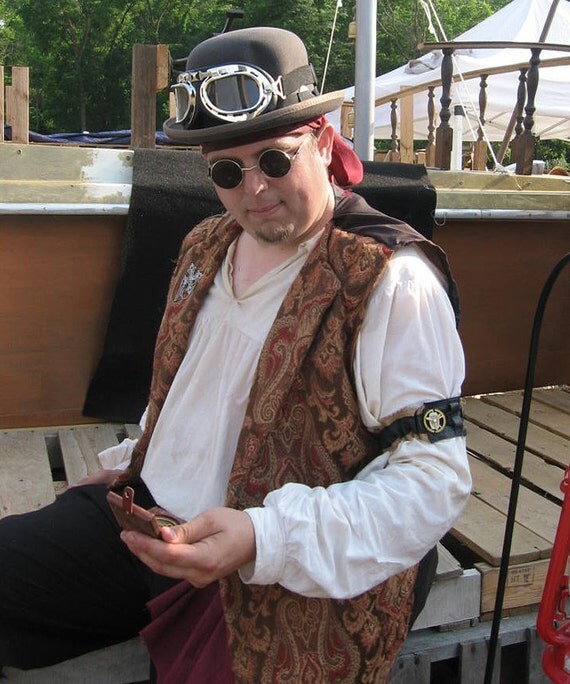 wonderfully demonstrated here, they are dandy-luscious no?
*gasp* how timeless is this greatcoat? And how beautiful is it?
It is so stunning and maketh the man I say! Such a wonderfully chosen fabric for this design too. I really do think it is worth investing in a beauty like this that will never let you down!
perfect for coming summer! I adore that collar and those wonder big buttons and I do think this is just an excellent addition for the wardrobe for the warmer season (or when you are channelling your inner airship pirate look!)
very dashing! and it is worth checking out the shop for more wonderful outfits and pieces by clicking on the on the link above under the picture (and indeed for all items featured in this post)
(love the googles!)
And to finish off the perfect outfit, every man needs a pair of spats!
certainly as splendid as these!
Hope you enjoy this round-up. I've noticed there seems to be a shortage in men wears choices and styles sadly when it comes to steampunk. Either it looks too costumey or too gothic...so these wonderful craftsters are very special indeed to be catering for the need of the well distinguished gentlemens out there
Birdie love to you all and especially to my pops and any man out there who wishes to become a steam punk pops!
xxx