I love Minions....love, love, love them!
You know what i'm talking about right?
The small yellow things from Despicable Me?
They talk nonsense and they are hard working but funny little characters?
Let me show you what I'm on about!
Who can resist this cute little guy with his wonderful lop-sided smile?
No one can!
loving that little googly eye detail too!
Nawww! What a super sweet dress for once where it isn't in shades of pink and overly sweet but still so very pretty! Not all little girls want to wear pink you know?
I love the style and the fabric selections that work so very well together.
....i want one now in adult size!
You can't not laugh!
They make no sense in what they are saying but you still actually understand them somehow!
I'm loving this "One in a minion" poster. Love it, love it, love it!
I also love the poster below as it features my favourite minion of all...Dave!...Its the hair, how it stays slicked down like he wants to remain professional despite his behaviour!
Really do check out the other goodies in this shop! There's some pretty cool poster designs here!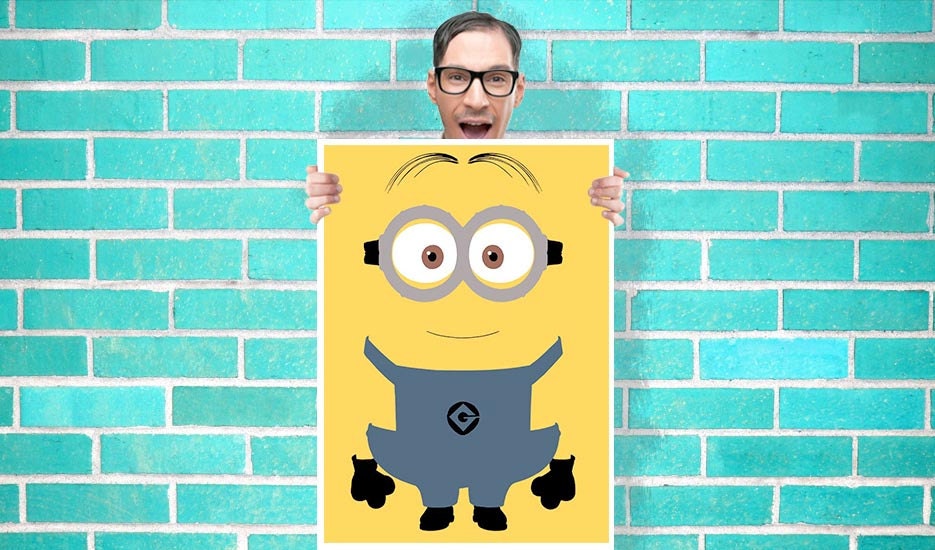 "
Fun and funky custom painted shoes. Characters from Illumination Entertainment's Despicable Me 2. Adorable Agnes has a grip on Gru's monster poochie Kyle and what the heck happened to the Minion?! He's been face slapped by a starfish. It sure cracks up the other lil Minion on the side!"
I adore these hand painted shoes! There is a growing trend for painted footwear at the moment on craft selling websites and the quality of the paint work varies but this pair is one of the best ones out there! The detailing and shade work is spot on and the scene chosen is spot on! Agnes is such a cutie in both films and even the dog is so very cute despite looking anything but! The starfish scene does actually happen in the second movie so watch out for it happening in the background!
As ever, I cannot resist a baby costume especially one so cute as this!
There's nothing cuter than a baby dressed up....you might as well make the most of it before they learn to speak and object to being dressed up to look like a wookie or baby Yoda.....
still, make for some pretty good baby photos
don't
you think?
I love these little earrings! You may not feel comfortable to wear a t-shirt or hat declaring your love for the yellow minion kind but these little cute and discreet earrings are pretty adorable! Especially that toothy smile! Nice one!
"
Need some help executing your evil plot to take over the world? Why not employ a minion or two to take care of the dirty work?
"
I told myself I'm not allowed to by myself a cuddly Minion yet unless i'm either gifted one or I visit Universal and bring one back....so I will have to wait I think....maybe....
But this little cuddly plushie is actually one the best ones I've seen out there. Just the right amount of detailing, squishyness and whatmore, you can remove the goggles on this little guy!
LOVE!
BANANA!
Loving the banana prop in this picture....bit of an inside joke unless you seen the movies or seen the little mini movie! But damn isnt that the sweetest phone cover you seen all your life?!
Especially that whole unique hand crafted feel to it!
And because I'm nice to you, you can see for yourself the love these guys have for the Banana! Just watch and enjoy!
"I know I can't be the only one who grabbed a toilet scrubber, ping pong ball, an ice cream cone, and googly eyes immediately after watching the first Despicable Me movie. But that Papoy, unfortunately, isn't very durable, or snuggly, for that matter. So I made this! "
If you seen the first movie and was paying attention, you would recognise this little character!
(the minions after a trip to the shop to try and replace Agnes' destroyed Unicorn cuddly toy, they hastily made they own Unicorn up from a toilet brush and other knick-knacks!
I adore the fact that someone paid attention to detail and went and actually made it!
Full on kudos to you! You're awesome!
If you havent seen any of the Despicable Me films, watch them! The minions are the true stars of the whole franchise and apparently they are going to get their own film in the future...which to me is epic!
What an enjoyable round-up of Minion crafted goodies! Hope you love them as much as I did!
Great shout out to these wonderful craftsters and keep crafting! You guys rock!
Birdie Love
xxx